THE CHRISTMAS GIVEAWAY IS NOW CLOSED – THANK YOU ALL FOR TAKING PART!
Have you been good?
Have you been nice?
Santa is checking his list at least twice! This is the fun surprise I have been teasing all of you readers with the past 2 weeks. 🙂
Its coming up to the Christmas season and although I don't celebrate it I love this time of year because its the end of year and always a more relaxing time at work! (This is in theory – this year I've been run off my feet at work!) However, I had the time to dream up and organize a CHRISTMAS GIVEAWAY for all my readers!! I also love the winter but its broiling hot here in Malaysia – boo! 🙁 Someone send me some snow?
So enough of the chatter – what is the My Women Stuff Christmas Giveaway?
The Christmas Giveaway
I wanted to give all you readers something nice for Christmas because everyone's been so lovely and supportive all this time, but I can't possibly give you ALL something (I'd be so broke!) so I thought I'd hold a little giveaway right here on My Women Stuff.
The Gifts
I contacted a few companies earlier to ask if they might be willing to sponsor a little gift for Christmas for my readers and to my surprise and absolute delight, most of them responded positively and very generously!! So there are a ton of wonderful gifts packaged and ready to go out to you! Gifts are sponsored by the lovely people at:-
Revlon
L'oreal
Yuan Soaps / Origin Living Sdn. Bhd.
Don't you love them? I do *hugs*!!
On my part, my gift to you is
a Rootote filled with some Yuan and Soapy soaps and some other goodies! and
an Envirosax reusable grocery bag with Soapy soaps and some other surprise goodies 🙂
Due to time and weight factors (Some items are rather heavy) most items in this Christmas Giveaway are limited to those with a Malaysian mailing address only (as I'm the one doing the mailing and costs are coming out of my pocket!).
However, the gift sponsored by Anne Dundas Jewellery and the Envirosax Gift Set by me will be open to all readers worldwide (Malaysia included)! 🙂 Feast your eyes on the gifts below!
Revlon Gift Set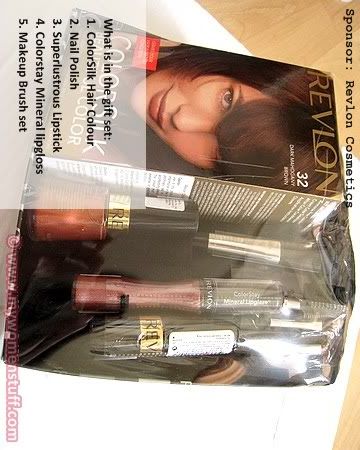 Anne Dundas Earrings (open to international)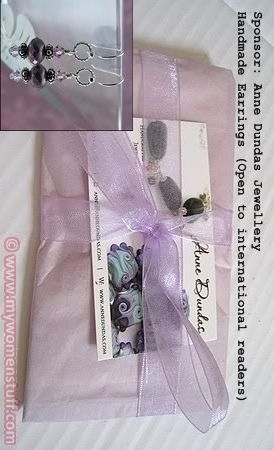 Stage Cosmetics Gift Set

L'oreal Head to Toe Gift Set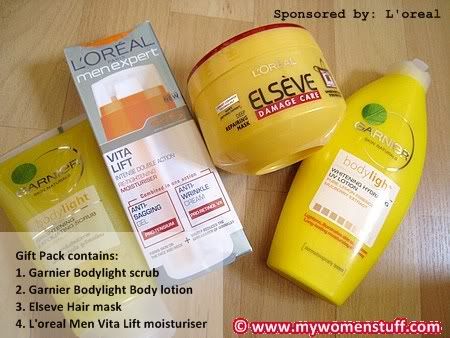 L'oreal Face and Hair Gift Set

Tiny Tapir Nana Mays Gift Set


LovingMinerals Gift Set (will be sent by LovingMinerals)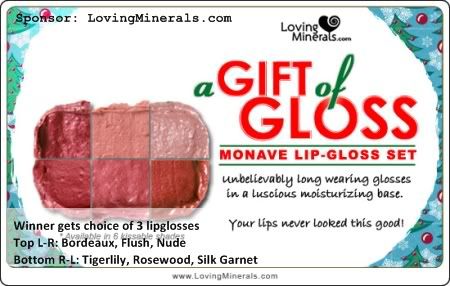 Beautilicious Gift Set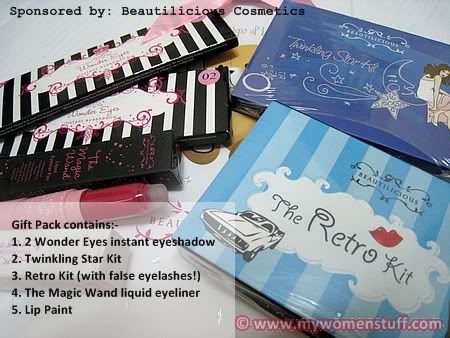 Envirosax Gift Set (Open to International readers)

Rootote Gift Set

Each gift pack has a value of between RM80-200. Are you excited yet? 🙂 Here's how to enter. Please read carefully.
How to enter
To enter, leave a comment below in this post telling me where you are from and which gift set you will like to win and why. No need for an essay – even saying "Because I like it!" will do. I will then enter your name for drawing under the item you choose. Each person is entitled to just ONE entry so choose wisely! 😉 The winner will be drawn at random after the closing date. No purchase is necessary to take part! 😀
e.g. I'm from Antartica and I'd love to win the gift from Anne Dundas because even penguins love us a little bling.
To boost your chances of winning your chosen product, check the My Women Stuff feed you receive by email or in a feed reader. There will be a unique word/phrase in the feed that is NOT stated anywhere on this post. When you see it, email me the password at mwsgiveaways (at) gmail (dot) com with the subject line "Christmas Giveaway" and the secret password and the gift you have chosen. I will then include your name under the item you have previously chosen. (You must use the same email address as you have used in the comment below or I will not be able to track your entry) (UPDATE: Unique word will start appearing Dec 2 onwards)
If you have not subscribed to my feed, you can still do so below or through the form on the right sidebar. If you subscribe for email updates you MUST verify your subscription or you won't get updates. The unique password will be featured on the feed until the end of this contest and the word may change but you must only email me one time. (I told you subscribing to my feed has its advantages! 😉 )
Bonus Entry
EDIT: My earlier instructions don't seem to have been very clear. Here's the edited version.
If you have a blog, write about this giveaway and link to this post with the words "My Women Stuff Christmas Giveaway" using these exact words. The link and phrase must be in the body of your post and it need not be a dedicated post. Even a passing mention is fine. Then please email me at mwsgiveaways (at) gmail (dot) com with the link to your published post.
If you don't email me, I might miss your post and you will lose out on the bonus entry. Please also use the words exactly as above in your link or I'll not be able to grant you a bonus entry too.
More entries = more chances of winning your desired gift due to rules of probability and other hard mathematical statistical equations like that which tax my little brain. 😛
The Closing Date
The closing date for this giveaway is 6pm 15 December 2008 (Malaysian Time +8 GMT). I will close comments then and tabulate the entries and pick a random winner. I hope to get your gifts out as quickly as I can but I am just one person so do be patient if entries are many and I get bogged down.
Other Terms and Conditions (Please read)

This contest is open to all readers with a Malaysian mailing address only (except for the Anne Dundas Jewellery and Envirosax gift set which is open to the world including Malaysia).
Anyone can enter irrespective of whether you have won anything before.
If you win and have a blog, do write about it and let us know what you did with the prize. It'll be fun for us to know.
You may only choose 1 item – leave one comment and/or email me the unique word one time only and/or write 1 blog post.
Please keep it clean and wholesome fun.
Winners will be chosen randomly via random.org.
Feel free to spread the word to your friends and family – the more the merrier! After all, Christmas is about sharing and caring!
GOOD LUCK AND HAVE FUN! 🙂