Tine did her virtual Christmas shopping on Polyvore but when I tried to go there to do my virtual shopping, I was simply boggled by the choices available for the many many products. So, I opted to prepare my wishlist manually and decided to concentrate on my favourite fashion item – bags! 😀
Yes, this is certainly purely dream shopping as you can tell (from the top):-
Cole Haan Genevieve woven triangle bag
Louis Vuitton Montorgueil PM bag
Louis Vuitton red epi leather zippy wallet
Celine Boogie bag in blue denim
Chanel Classic 2.55 in lambskin
Ah for bottomless pockets and infinite income at my disposal… Now that I've finished dreaming and ogling, its time to get back down to earth and do some proper shopping 🙂

Oh, I happened to walk past Coach last week and saw they were on sale. Selected bags were 30% off which puts them into "nearly affordable" range. Lots of the pleated leather Ergo tote bags available. I also happened to see an adorable light pink bag in the window, which was what prompted me to venture in in the first place. The window had a sign that said "Limited Edition" which piqued my interest even more. After some online research it turns out that the bags were part of the Coach 2009 Resort collection. 2009? We are barely out of 2008!!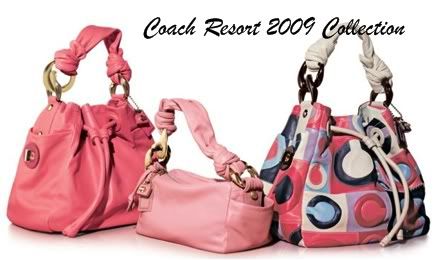 The dark pink one on the left (Resort 2009 Leather Shoulder Tote) most is quite gorgeous in real life. It is fairly large – on my 5′ 2″ frame, it actually felt bulky and the drawstring closure is quite cumbersome as the strap is thick. But it was oh so soft and squishy! I couldn't help squishing it as I tested it out on my shoulder. It looked like it would serve as a decent pillow in a pinch LOL… The one on the right is erm… eh? at best. The one in the middle is cute but not as interesting as the shoulder tote so I merely gave it a cursory glance.
The large leather shoulder tote does cost RM30XX (I forget the rest once I see a number starting with 3) which I thought it was too highly priced for a Coach. Coach is a pricey brand but its not in luxury range just yet. In the USA its going for US$598 (RM2,133). Still expensive for a Coach bag. At RM3XXX I'd be looking to a higher end brand – I did see a lovely red leather number in Salvatore Ferragamo that was RM25XX after 50% discount but window shopping is about all I do these days. 🙂
Hope everyone has enjoyed your weekend!