My sister recently had her wedding reception where yours truly was the bridesmaid and general dogsbody 😛 One of the most fun things I took part in was watching her transformation for the evening dinner reception. Her makeup was done by the wonderfully talented Zamri Zainol, Lancome's Top National Makeup Artist who usually does magazine covergirls, models and actresses. I wonder if this is the first non-celebrity wedding makeup he has done! 😉 I want him for my wedding tooooooo!!!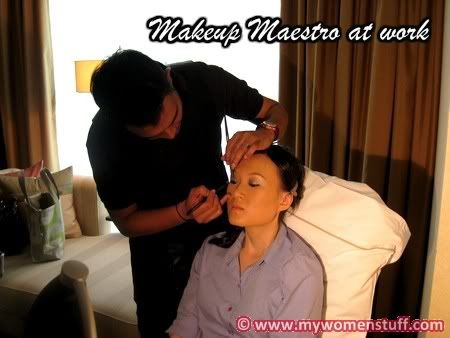 Anyway, while he was making her up with a veritable portable Lancome counter, I sat and drooled and picked up some tips for evening makeup or evening makeup for brides. Here are 7 tips he shared that I will in turn share with you:-
For more defined brows, pat in concealer to conceal your brows (if your brows are light and sparse) then, use a brow pencil or brow powder and brush to draw in a natural brow line. It gives a more defined look and you'll need a defined look for photographs.
For an evening reception you want to look as glamorous as you feel so concentrate your makeup on the eyes with dark shimmery eyeshadow and lots of liner and mascara to emphasize your eyes.
Highlight your eye area and decolletage with fine shimmer. Under warm incandescent lighting, it will catch the light and you will look amazing.
Use natural soft false eyelashes to enhance your eyes. Try to go with soft false eyelashes because they look more natural and in photos they will really enhance your eyes. Save the fancy falsies for fun times.

When using false eyelashes, place them slightly above your lash line instead of directly on the lash line. This goes totally against what I've been told previously, but he says that this actually gives you a more natural look. Well, my sis looked like she had natural lashes a mile long so I'd take his cue.
Use lip liner to define your lips and fill in colour. Lipgloss adds a glossy dewy look to the lips. You will be smiling a lot and taking a lot of photos so the lips are important! Also, lipstick while gorgeous in person can make your lips look heavy in pictures.
To help your cheekbones pop in photos, you can contour your cheeks by shading in a darker powder or blush under your cheekbones and a lighter brighter blush on the apples of the cheeks. This however, is something that takes a LOT of practice because he spent a lot of time on it and the end result was amazing! My sister had cheekbones! 😀
These tips actually are applicable even if you aren't doing bridal makeup but if you want a glamourous evening look. I picked up a lot watching the master sifu at work, and I will have to try to put it into practice. Zamri had previously shared some tips on how to look beautiful on your wedding day and some thoughts on makeup at Wedding Planning Tips.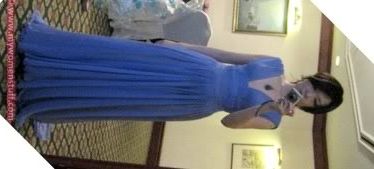 As for myself, I did my own makeup. After my previous request for tips for bridesmaid makeup, I realised that my dress was actually blue and not lilac as I originally thought. Anyway, I went along with the dark smokey-ish eye look but I did not do a nude lip because I am averse to nude lips. I went instead for a light glossy pink lip that I thought went well with the overall look.
I also camwhored a little and found myself doing the Karen Cheng pose. LOL… You can't see my makeup in here but I wanted to show off my dress really hehe…
I really loved my dress even though I spent the whole night picking up the little train and having it stepped on. I was so terrified the chiffon would tear but I still loved it anyway because I felt like a Grecian princess 🙂
Not to worry, the bride wore a gorgeous bright red dress that totally eclipsed everyone else in the room so I was no competition. Whew! 😉 A couple of blogger pals can vouch for this!
However, I think I took photo taking a little too seriously eh? LOL…
Dress by Melvin Lam, hair by Thomas of de Headline hair salon, necklace by Anne Dundas and makeup by Paris B.
Overall effect, priceless! 😀
p/s Updates will be sporadic this week as I am uber busy with the proper wedding ceremonies and family dinners back in the hometown where internet connection is also likely to be sporadic 😛 Not to worry, I'll still be logging in time to time and I will be watching out for all your entries in the My Women Stuff Christmas Giveaway so keep those entries rolling in!
Enjoy your week!
~ Paris B ~