If you have read through my site, you will notice a marked lack of posts relating to nail polish. A simple reason is that I like to keep my nails short and I always imagine that my nails are suffocating with polish on. However, that's not to say that when I do apply nail polish on my nails, I don't enjoy looking at my pretty nails. Lately however, I got the urge to colour my nails – its one of those things 😛
I know OPI nail polishes are among the best, but they are very pricey here in Malaysia. And as a polish novice, I wanted some fun colours I could play with without breaking the bank. Enter Elianto Nail Colors!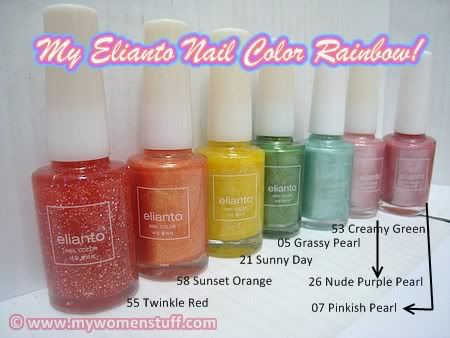 Here are some fun nail polish colours I picked up from Elianto. They retail for a mere RM5 (US$1.40) a bottle and to my surprise, had some pretty colours and applied quite smoothly. I'm not a nail polish connoisseur so I can't tell you much about them, save that the colours are pretty and pearly and shiny. 😛 I will however attest to the fact that they apply smoothly because I bought a Silkygirl nail polish recently on a whim for RM9.90 and the polish was awful. It applied very thick and goopy, the brush was awkward and I couldn't get it smooth at all. I'm not sure if its the texture of the polish or the brush but either way I hated it.

At RM5 a bottle, I could afford to splurge on a shiny green shade from Elianto that makes my nails look like (a) I've got gangrene or (b) I'm turning into the Incredible Hulk one finger at a time 😛 Still, I would never have tried green on my nails if it was not so cheap!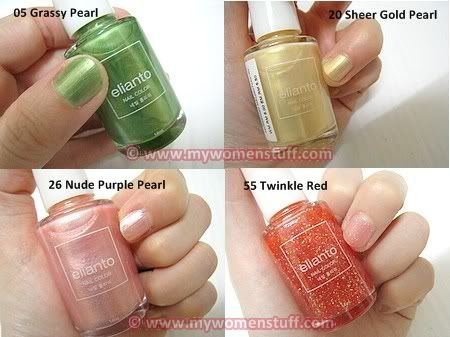 Don't you love how I painted each nail a different color? LOL 😀
I discovered that the Elianto nail polish is rather sheer so I had to apply at least 3 coats before I could get the colour on my nails looking like the colour in the bottle. This is especially true of the light colours that have glitter in them. Twinkle Red for example might need 4-5 coats before I start seeing any red on my nails; it is that sheer but the pretty glitter makes up for it. With normal computer use and my using my nails to remove staplers while forgetting I have nail polish on, the colours lasted nearly a week without chipping too much.
So, if you are in the market for some fun nail colours, do check out Elianto because RM5 is a great budget nail polish find and an excellent inexpensive pick me up for those days when you just need to splurge on yourself. So, Nikki and Prettybeautiful, have I given you a run for your money with my new nail colour collection yet? 😉
Now, here's a bit of good news – while I was in the area for a meeting, I stumbled upon an Elianto warehouse sale at the Bonita warehouse in Taman Shamelin Perkasa, Cheras! It is on from now until Sunday 21 December 2008 (10am – 7.30pm) and that was where I picked up the Elianto nail colours at RM5 for 2 which means a mere RM2.50 each! Is it any wonder my nail polish collection mushroomed so quickly? 🙂 Here's the address to the sale (near the MO Outlet):-
28, Jalan 6/91, Taman Shamelin Perkasa, Batu 3 1/2 Cheras, 56100 Kuala Lumpur
They also had Elianto eyeshadow pans at RM5 for 2, 10 pan palettes, brush rolls (RM6), body washes (RM7), Bonita hair and costume accessories etc. If you are starting to build your brush collection, I reckon the brush roll is a good buy – its cheap, looks decent and keeps your brushes safe and sound especially when travelling. I even did a bit of remote control shopping for Beetrice so you can expect her to share her loot soon. hehe… If you do go, do share your spoils yes? Happy shopping! 🙂