I was recently contacted by Reese and Origin Living Sdn. Bhd. to try some organic soaps from Taiwan. I am a self-proclaimed shower gel junkie but some recent forays into handmade natural soaps (e.g. Soapy natural handmade soaps) has left me nothing short of impressed. So I agreed to test run some Yuan Organic Soaps.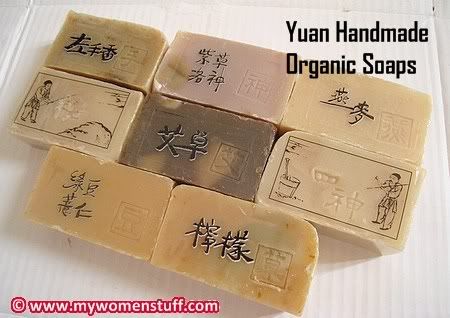 The Yuan Organic handmade soaps are made in Taiwan.You can read about its history at the Taipei Times article (link) or on its official website for those who can read and understand Chinese (link). Essentially, what these soaps are, are 100% natural and organic handmade soaps using natural ingredients and herbs and are touted to have curative effects for various skin problems.
Here is a link to a site I found which lists the various types of soaps available and what they are good for, for those of us who cannot understand Chinese. As Reese was so generous with the bars of soaps I couldn't test every single one so I will be spreading the love as I go along 🙂

Here are some of the types of soap available.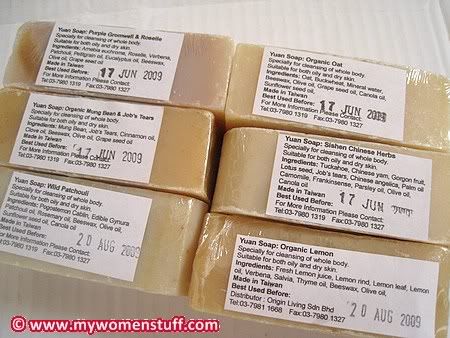 Purple Gromwell & Roselle
Organic Mung bean & Job's tears
Wild Patchouli
Organic Lemon
Wild Mugwort
Sishen Chinese herbs
Eucalyptus
Organic Oat
Each of the soaps are made to address different skin problems ranging from acne to eczema and detoxification. There are chinese words etched into the surface of the soap which I believe distinguishes each different type but as I can't read them, I can't say for sure 😛
My Experience with Yuan Soap
I had been having some problem with a very itchy spot on my back that appeared out of the blue one day. It would be aggravated on days when it was hot or when I sweat and no amount of antibacterial creams would get rid of it. So, when I saw that Wild Mugwort can fight against eczema and itch cause by ringworm and that one of the soaps was made with Wild Mugwort, I figured I'd give it a try. Nothing ventured nothing gain right?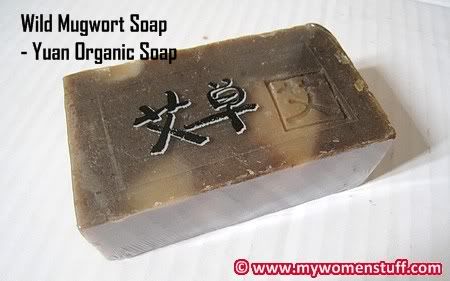 First off, if you don't like herbal smells then these soaps are not for you, no matter how good they are. The smell of herbs is strong. However, I like herbal smells so I was fine about it. The soap is strong smelling on its own and leaves the bathroom with a lingering herby smell – I like it and find it refreshing.
The soap bar lathers up well enough and you only need very little to create some good lather for the whole body. It does not leave the skin feeling dry and this is important for me. I detest walking out of the shower feeling like my skin is pulled taut like I've been mummified (not that I know how it feels to be mummified 😛 )
Importantly, after using this soap for a week, I found that the dry itchy patch on my back is less itchy although the mark is still there. All this without the aid of topical creams. Am I sold? You bet!
The Wild Mugwort soap is also touted as a gentle wash for those who get acne, atopic dermatitis and eczema on the chest, back and cheeks; and is also suitable for those with strong body odour. If you know of someone who has body odour and don't feel nice telling them so, perhaps a little gift of this soap may get the message across? 😉
I gave the Wild Patchouli soap to my brother in law to try since he has some problems with hand eczema. This soap is touted to help those with hand eczema and I wanted to see how he felt about it. 1 week after using the soap everyday, he tells me that whilst his eczema is not cured, the itch has lessened drastically to the point he hardly scratches at the skin anymore; and the dryness on the hands are no more. In fact, his skin has even smoothened out and stopped peeling. I was impressed and if I had not seen it for myself I would not have believed it!
I love finding a product that works as advertised and especially so when it is a handmade organic product from natural ingredients.
The other thing about Yuan Soap is that it appears to be gentle enough for using on the face as well. Well, being a bit of a mad scientist, I tested it out for a few days in the evenings. To my surprise, my facial skin did not feel dry or tight after using it. I'd been conditioned to think that soaps are bad for your face but I guess natural and organic soaps don't fall into that category. Also, some stubbon spots have all but disappeared progressively over the course of usage. My skin has actually been feeling nice and smooth recently. Is it the soap? I can't say for sure, but I only use this soap in the evenings and just my regular skincare regime and thus far, everything's hunky dory yay! 🙂
I am particularly happy that this soap works so well on face and body because I need something for travel and this fits the bill nicely. I will have to put it in a plastic bag and make sure I air dry it every day after use but hey! Its a small price to pay for convenience! Reese tells me I can even use it for hair as she does. I tried the Wild Mugwort soap on my hair but it felt a bit rough. Perhaps I'll have to try another.
The only thing I don't quite like is that the soap seems to dissolve very fast. After a week, the size is markedly smaller which is different from the glycerin based Soapy soap that remained hard and kept its size longer. So I'd compare the Yuan soaps to Lush soaps because they have the same sort of crumbly texture. That said, after 2+ weeks now, the soap is still in no danger of disappearing so maybe its just illusory.
Yuan Organic handmade soaps are available at many health food stores around the Klang Valley of Malaysia and cost betweeen RM17.90 to RM29.50 a bar. Pricey I think, but hey, it worked to cure my itch, helps my face feel nice and smooth and my brother in law is all but sold on this soap, so I'm going to say its worth it! I can't wait to use some of the other bars. If you are looking to try it, you may contact Reese (reeseong(at)yahoo.com) for a store close to you. I believe it is also available in Singapore but I will let a Singaporean confirm it in due course.
Pros: Helps reduce eczema itchiness, Nice herbal smell, Lathers up easily

Cons: Rather pricey, Melts quite quickly
[rating:4.5/5]