On my last visit to the Tiny Tapir headquarters during their open day, I was intrigued by a selection of handmade soaps for sale under the brand name – Soapy. As with all things sold by Tiny Tapir, the product is natural and eco-friendly. Best of all, Soapy is made right here in Malaysia!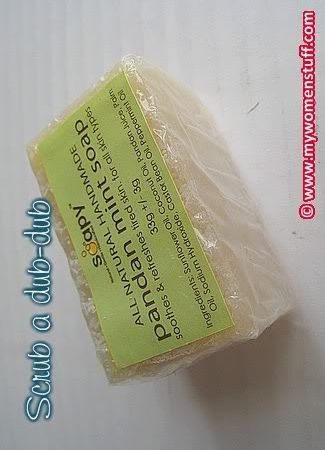 I bought a small piece to try in Pandan Mint. The soap is handmade and natural with glycerin as its main ingredient. There are many flavours available but I opted for the soap infused with pandan (screwpine) and peppermint to refresh and invigorate.
When used in the shower, I found that the soap lathered up very easily. Just a few rubs between your wet palms will create a rich lather. The smell of pandan for those who are familiar with it, is not only refreshing but delicious too! The peppermint was very subtle but it left a very faint tingling cool feel on the skin. Invigorating indeed! The nice thing is that the skin does not feel dry after showering.

I bought a little bar for RM2 to test and I think I'm going back for the full sized version (100g) which retails for RM13 each – pricey for a bar of soap but not pricey when compared to shower creams or gels that finish up faster. The little bar of Soapy soap I bought lasted quite long with regular use – approx 3 weeks. Best of all, it makes a perfect travel partner because it is a little bar of soap and therefore not subject to the 100ml rule on airlines! 🙂 One little bar is enough to last you a few trips – just leave it to dry overnight before packing it away; and the Pandan Mint is lovely and refreshing after a long day of travel or walking. I would love it even better if they could be like Lush and create a solid shampoo – that'll take care of my packing woes for good!
Here are the ingredients in this Soapy soap : Sunflower Oil, Coconut Oil, Pandan Juice, Palm Oil, Castor Oil, Sweet Orange Essential Oil, Peppermint Essential Oil
[rating:4.5/5]