Do you save or splurge on a lipgloss?
If you are a regular here on My Women Stuff, you'll know that Paris B is no fan of lip gloss. I find it too goopy, sticky and too lacking in color. But that's not to say that I don't have any! One of the styles of lipglosses I like come in the clicky pens. You know those pens where you turn the bottom and swipe on the colour with a brush? The bottom makes a click-click sound hence the reason I call them clicky pens 😛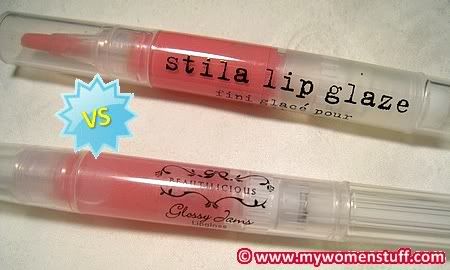 I happen to have clicky pen lip glosses from 2 brands and interestingly, one is higher end – Stila Lip Glaze and the other is low end – Beautilicious Glossy Jams. I thought it would be interesting to see how each fared against the other.
Packaging
Both lip glosses come in similar looking clicky pens. Both have transparent bodies so you can see the colour of the gloss easily and both have a brush applicator. I like brush applicators. I find it gives me better control. Both have a similar problem of too much gloss coming out of the brush if you turn the base too much.
PB's Verdict: Neither wins. They are both similar.
Price
Stila : RM85 for 2.4ml = RM35.42 / ml
Beautilicious: RM25.90 for 3ml = RM8.63/ml
PB's Verdict: Beautilicious wins in the price department
Performance
You can read my review of the Stila Lip Glaze. In a nutshell, the Stila Lip Glaze is a lovely sticky lip gloss with nice colour pay off and brilliant shine.
Beautilicious Glossy Jams belong in the other category of lip glosses, which are the non-sticky variety. I actually detest sticky lip glosses because I feel like there's clingfilm on my lips and they feel suffocated and oily. Strange but true. So, the promise of a non-sticky lip gloss is very attractive.
I have to say that the Glossy Jams lipgloss lives up to its non-sticky promise. When applied, I don't get the thick oily feel on the lips, yet I get a nice shine because the gloss has little bits of shimmer in it (not glitter). The colour I have is Tangoberry Jam which looks light pink in the tube but applies pretty much clear. I would love to see how Raspberry Jam or Crimsonberry Jam fare as those are darker. (see colours) But I'm going to stick my neck out and say that Beautilicious Glossy Jams are pretty sheer and mostly shine. Nothing overboard though.
You can see from the picture that the Stila Lip Glaze has a thicker texture while the Beautilicious Glossy Jams have a lighter texture. Both were swiped approximately 4 times to get the colour to show up.
Whilst a lighter texture is all good for me, it also means that the lip gloss slips off faster and you have to reapply more often. On the other hand, you don't get that horrid sticky ring around your lips that you sometimes get when you wear a very thick sticky lip gloss. So, its a toss up in the end.
There is a slight sweet scent to the Beautilicious gloss but so does Stila.
Overall Verdict
I don't have a winner for this challenge. In the end, it all comes down to personal preference. Do you prefer a sticky lipgloss or a lighter non sticky one? Do you want to save or splurge on lipgloss?
On a personal note, I would save (since lipglosses aren't a fave product and because they finish up so quickly) so I would likely go back to the Beautilicious Glossy Jams once I'm done. Stila is nice, but my lips hate it when my hair tries to get too intimate with them 😛
So, would you save or splurge on lipgloss?