If eyes are the windows to the soul then the eyebrows must be the frames. Whilst I am happy to be blessed with relatively tame yet dark enough brows, not many others share the same fate. Hence the need for eyebrow grooming kits.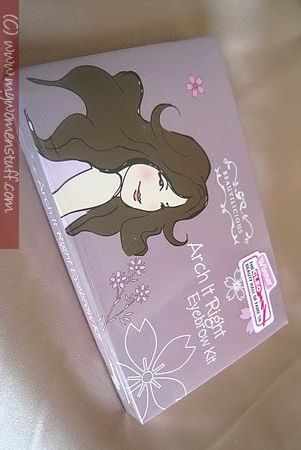 Local drugstore brand Beautilicious has one in the Arch it Right eyebrow kit. What you get in a slim compact kit is a set of 4 eyebrow stencils, a tweezer, a brow brush and 2 brow colours to fill in your brows after taming and shaping them.
The kit comes with 4 eyebrow stencils. Now, I'm not an advocate of stencils of any sort but when it comes to brows, I must say these are a great idea. What it does is give you an idea of the approximate shape your brow should take so you can tweeze away the extra hairs. What you should NOT do is follow the stencil religiously to the extent that you end up looking perpetually surprised. Remember, we are all different and no kit can make us all the same.
The stencils in the Beautilicious Arch it Right eyebrow kit are of very soft silicone. This helps it conform to the contour of your face which makes it easier for you to see how best to shape your brow. There are 4 included – Natural, Fine, Super Fine and Full depending on how you like your brows to look. I prefer the Natural or Full look. The shape of the stencil is quite natural with a gradual arch so you don't look like Bozo the clown.

The theory is simple. Place the stencil over your brow, outline it in white pencil then tweeze away the hairs outside the white line to get your brow in shape. Then, using the brush, fill in your brows for a more defined look, if you have sparse brows.
However, if you are like me and already have shaped brows and only need maintenance, you may not find the kit useful. I've only ever looked and played with the stencils but have not used them. However, I must say that the tweezer that comes in the set is excellent! If you have ever had to shop for a decent tweezer, you would appreciate the fuss I'm making over this little metal tool.
The tweezer in the Beautilicious Arch it Right eyebrow kit actually tweezes well without pinching the skin! The beveled edges meet nicely so even the tiniest of hairs will not be spared and all without ending up grabbing skin along with it, bringing tears to your eyes. I have never had much luck with buying tweezers but now I have the one from this kit, I'm guarding it with my life!
The brow powders too are decent stuff. I use the darker colour because its a closer match to my hair. If you have dyed hair, you might prefer the lighter shade.
However, I have a big grouse. The brush that comes in the set is awful. The bristles are too fat and thick and the brush is too stiff. I tried using it, but I ended up with thick unnatural looking brows. So, I use my regular eyebrow brush from MAC 266 or the Shu Uemura Badger OB6.
Another grouse is that if you lose the bit of silicone band that holds the tweezer closed, you'll find that the compact does not close up properly. I experienced it once and I turned my vanity upside down trying to find a little bit of transparent silicone. Not easy I assure you!
If you already have shaped brows, you might prefer just getting the brow powder and that is where this kit fails a little in my view. Not all of us like to tote around a whole kit complete with stencils and tweezer. So, whilst its an excellent starter kit, it loses it functionality once you have gotten your brows into shape. Still, its a decent kit and a set I'd recommend for those starting out with eyebrow grooming and want to shape your own brows. This way, you can be almost sure your brows will be shaped properly and you don't end up over-plucking. This kit did not win the Cleo Beauty Award for best brow kit for nothing!
The Beautilicious Arch it Right eyebrow kit retails for RM59.90 at most Watsons stores and some Jusco stores too.
Pros: Good for beginners, excellent tweezer

Cons: Compact cannot close if tweezer is not held shut, not as useful for those with shaped brows, brow brush is too thick
Update: Get it online here.