Christmas is a time for shimmering and glittering and the return of the dark smokey eye. For Christmas 2008 Dior's offering is Night Diamond – a collection of limited edition products that wink and shimmer and glitter away at you.
I saw the products yesterday at the launch of the Dior Iconic mascara and I had to test them out. So, once the crowd had dissipated around the Dior makeup truck (more on that below – I'd like to hear your thoughts) I went to play with Dior's Christmas 2008 collection – Night Diamond.
First up, the Dior Night Diamond Eyeshadow palettes (RM187). 2 Limited Edition eyeshadow palettes in the Iridescent eyeshadow quint named – Twilight and Moonlight respectively. Twilight is the one with the darker shades while Moonlight is the one with the light shades.
At first sight, I was interested in Twilight the one with the darker shades. The colours are iridescent and very strong in colour. The middle colour is really dark and glittery which some people may like and some may not. It is definitely a smokey eye palette.
Moonlight on the other hand is rather strange. There are 4 light shades with one dark shade in the middle. The light shades are iridescent and lovely on their own. However, worn together, they look way too similar to justify putting all of them in one palette. Also, I thought the middle shade stood out too much so careful blending is required when using Moonlight. Here are some swatches on the back of my hand.
You can see that Twilight is dark and pigmented while Moonlight barely shows up. However, I'd say that if you are very pale skinned then you may be able to pull off Moonlight for a pretty ethereal look.
The other Limited Edition item in the Night Diamond collection is the All Over Diamond Dust shimmer powder.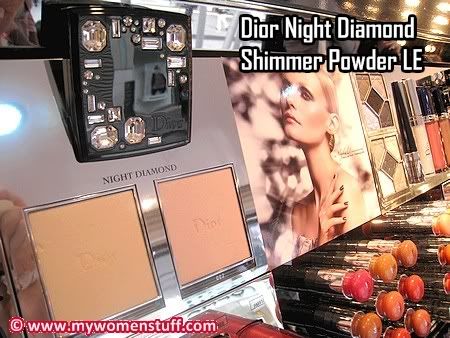 There are 2 shades – beige and pink. Beige has slight golden tones and would be lovely on those with tanned skin while pink has erm… pink tones and gives a light fresh look. Both products look like pressed powder in the pan, but swiped on, there is noticable shimmer. I was told it acts as a highlighter and I can see how. However, I'm going to say that its a little too shimmery for the day. Perfect for the night, but not so much for the day. Still, it felt and looked nice and it comes in a limited edition case with a lucite "diamond" studded cover.
To complete the look are other Dior products from their usual range I believe:-
I don't believe these products are limited edition but I can always be corrected if I'm wrong 🙂
Now about that Dior truck. Dior is going on a roadshow to malls around the country to promote their new Iconic mascara. And they are rolling up in a makeup truck that looks something like this:-
(Aside: I was absolutely captivated by that model who I found lovely in a very ethereal way, rather like Arwen in Lord of the Rings… LOL) Anyway, about the truck. It has a full Dior makeup counter on the back of a lorry so people can climb up and play around, but I'll be honest – I felt it was strange.
I've always associated Dior with luxury and beautifully scented beauty halls in nice cool department stores. When I want to test the products, I want to do so in relative cool comfort with a patient (or maybe impatient) sales assistant helping me as I go along to make an informed purchase. After all, Dior does not come cheap and lets face it, its not a brand for the masses. Its a brand that you want to approach with slight trepedition and be blown away by the sheer awesomeness of the products so you end up handing over your plastic at the cashier without a second thought (and weeping over your credit card statement at the end of the month).
That for me is the Dior shopping experience. Not in the back of a hot truck crowding around a makeup counter with 50 other women trying to grab that tester of that one shade of lipstick you have been eyeing from the back of their heads.
I don't know, that's me. What do you think of this innovative idea by Dior? Take the poll below and have a great weekend!
[poll id="8″]