About 2 weekends ago, I jetted off to Bangkok for 36 hours. It was impetous and it was a "pilgrimage" thing so it was something that needed to be done. Once the pilgrimage was out of the way, what else is there to do in Bangkok but eat and shop myself silly?! It did not help that most of the stores were on sale and the sales were ending just that week so there were lots of extra discounts! What is a girl to do but go a little nuts? 🙂
I did not quite though. I managed to show great restraint and only ended up with a couple of things.
Enough shower gels to keep me clean until my next trip to Bangkok!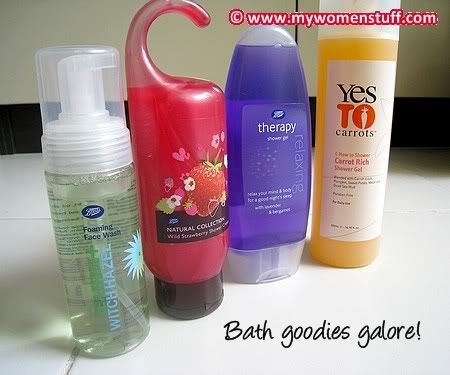 Yes to Carrots was 50% off everything at Central World so I snagged the shower gel that would normally cost THB446 for THB223 (about RM23) for 500ml. I love the Boots Natural Collection line and although Wild Strawberry shower cream smelt rather sweet, I picked it up anyway. The Tea Tree Oil + With Hazel Foaming Face Wash was picked up from the bargain bin.
At a store in Central World called Castro I picked up a couple of clothes stuff:-
3 tunic tops/dresses in 3 different colours/designs because they all looked good on me and I could not decide which to take 😛 The blue flowery one that looks so spring/summer is now residing in my sister's wardrobe – LOL…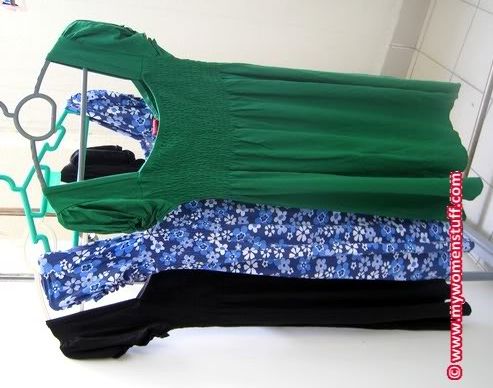 Hangers do a dress no justice! Rest assured they look amazing in person – very soft comfortable viscose cotton with elastene and that emerald green was amazing on! Its long enough that I can wear it as a short dress or with leggings/jeans for more modest surroundings.
Also, a pair of black peep toe heels from Castro:-
My eye was caught by the bow and by the material of the upper part of the shoe which is like a woven canvas. They were all 60-70% off so I'd say they are a bargain. When I got back, I was curious as to this brand Castro, because the labels had prices in Euros. So I looked it up on Google.
It turns out that Castro is actually a brand from Israel! The stuff in there are really cute – they reminded me of Mango or Zara but edgier. I don't think we'll ever see it entering Malaysia for various political reasons, but at least I know its easily available at a neighbouring country 🙂 On sale, they are quite affordable. Without discounts, I'd be mostly window shopping only.
And that's all the shopping I did! I showed great restraint didn't I? 🙂