If there is one brand of cosmetics I wish would be brought here into Malaysia, its NYX Cosmetics. I previously reviewed the NYX eyeshadows and NYX blushes and in a nutshell, this inexpensive cosmetics brand is exceptional!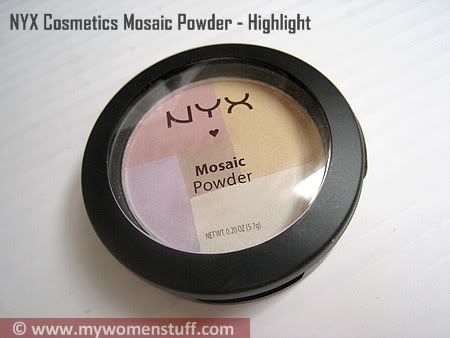 I had heard of the NYX Mosaic Powder for a while and had been tempted to get it too. But it was so hard to find anywhere that I eventually caved and got them on Ebay. I did later see them retailing in Singapore. The NYX Mosaic Powder Highlighter in 01 had been touted as the low end equivalent of Guerlain Meteorites highlighter powder. I had to see how well it fared.
The NYX Mosaic Powder is so called because there are 5 colours laid out in a mosaic form. There are a few colours available as the Mosaic Powder is also a blush. I will review the blushes I got separately later. For now, this review is on the powder in 01 Highlight.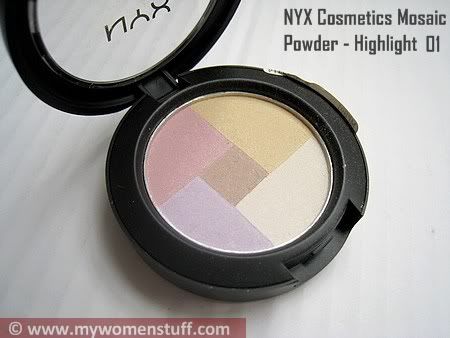 The NYX Highlight powder comes in 5 different colours but blends together into a pearlescent white. I can't swatch it because it doesn't show up. Dusted on the face, it serves its duty well as a highlighting powder, diffusing redness and giving the skin a glow.
Unlike many highlighting powders, the NYX Mosaic powder does not have a lot of shimmer. Whatever shimmer it has is minimal so you don't have the risk of looking like a disco ball. Some people have complained that of the Guerlain Meteorites. NYX Mosaic Powder in Highlight has none of this problem.
How I use it is by brushing a large fluffy powder brush over the surface and then dusting it on my face. Don't expect to see any colour because its not meant to impart colour. If you apply too much however there will be a whitish cast to the skin which isn't flattering.
Each colour can be used individually if you like, as eyeshadow. The colour is sheer but works in a pinch. On the face, its quite lovely, glossing over imperfections and giving a slight glow which is great on days when you don't look and feel your best. 🙂
The size of the powder is rather like that of a MAC blush and comes in a similar looking case with a clear cover. There is a lot of product for the price and will last a long time. The nice thing is that its very portable because its slim.
The NYX Mosaic Powder is really cheap at about US$6 each. I think they were S$20 in Singapore but I cannot be sure due to failing memory 😛 For something that is so inexpensive, it does a great job which is expected only in higher end products. If this was a stock, I'd be calling a buy on it right now!
Pros: Good highlighter, Not sparkly, Portable, Cheap

Cons: Not available in Malaysia (Boo!)
[rating:4.5/5]