I picked up the Etude House Eye Secret eyeshadow on a whim to make up a purchase of RM50. Its one of those things 😛 I was surprised however when I actually rather like it!
The Etude House Eye Secret eyeshadow is the one with the faceted surface and the metallic shimmery colours. As I previously said when I saw the Etude House collection, I preferred the look and feel of the Eye Secret to the Petit Darling eyeshadows. They felt nicer and looked better.
The colour I got was OR201 (Secret Orange). Now, don't be turned off at the thought of orange eyeshadow. I used to be too. "Orange?! Who wears Orange Eyeshadow?!" I'd exclaim in horror. Ah, but now I do, because Secret Orange is NOT orange, but a lovely peach!
Here's how to wear a light orange or peach eyeshadow – use it all over your lids to perk up tired looking eyes with a black shadow smudged near your lashline. Don't ask me how, it just works. I wore it to work one day after staying up all night reading and I had people saying how fresh I looked even when I felt half dead.
Immediately, I felt Secret Orange endearing itself to me!
The packaging is very much like Lavshuca eyeshadow singles. Here's a comparison picture side by side. Etude House is larger but you can see that the general shape and design of the case is the same as Lavshuca.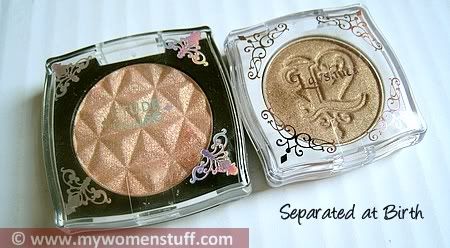 The eyeshadow texture however, reminds me of T'estimo eyeshadows. They even have similar faceted surfaces for the metallic shades. T'estimo however, is still finer milled and smoother to the touch for me and T'estimo is more pigmented. The powder of Etude House Eye Secret eyeshadows did have a tendency to fly all over if you use a brush so I stick to using my fingers (and the surface doesn't turn into that horrid gunky texture on contact with oils from your skin – yay!). Colour wise, it is fairly pigmented – the black colour is a decent buy if you are looking for a black shadow with sparkles; and it lasts for me but then most eyeshadows do.
Retailing at RM18.90 an eyeshadow, the Etude House Eye Secret eyeshadow is very affordable. One or two of the colours are gritty to the feel (I remember one was a white) but most of them are fairly smooth and shimmery metallic. The colour is also easily depotted – just stick a needle in the hole behind the case and pop the pan out into an empty palette. I'm still thinking of that GR620 that resembles Erika F of Lancome. 🙂
Cheap and good? Yes indeed!
Pros: Affordable, Nice shimmer, decent colour range.

Cons: Rather powdery, Some colours feel gritty
[rating:3.5/5]