I don't remember there being much buzz in Malaysia about the Pink Ribbon campaigns this year. It might be because of the present Eid Mubarak/ Eidul Fitr/ Hari Raya Aidil Fitri festive period that is on-going. We got a holiday for 2 days which is very nice 🙂
Anyway I unearthed another 3 special Pink Ribbon promotional offers by Bobbi Brown, Estee Lauder and Clinique. Estee Lauder has been doing Pink Ribbon campaigns for a few years now as I recall and I'm sure most of the companies under their umbrella will have specials too. Here's what I found.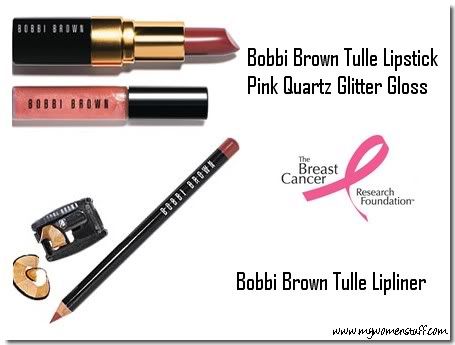 Bobbi Brown Pink Ribbon 2008
Pink Quartz Glitter Lip Gloss and Tulle Lip Color lipstick set. Pair it with Tulle Lip Liner which comes with a sharpener. Pink lip items from Bobbi Brown's stable from which a portion of proceeds will be donated towards the Breast Cancer Research Foundation.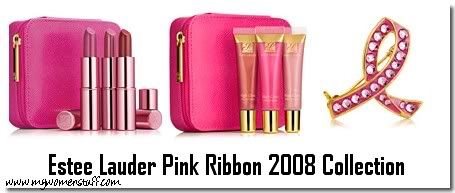 Estee Lauder Pink Ribbon 2008
Estee Lauder's offering is a Limited Edition trio of 3 pink lip colours:-
Pure Color Bali Rose (Limited Edition)
Pure Color Candy
Signature Hydra Lustre Rich Berry
Pink zippered case
There is also an Elizabeth Hurley Lip Color Collection of 3 pink lip glosses:-
High Gloss in Pink (limited edition)
High Gloss in Rose
High Gloss in Pearl
Pink Zippered case
And the one item Estee Lauder has every year, the Jeweled Pink Ribbon pin set with twinkling crystals and is a collectible.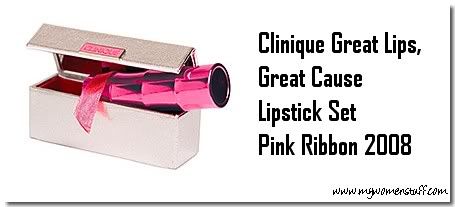 Clinique Pink Ribbon 2008
Clinique this year too is doing something pink for the lips. I remember when they did that lovely Shimmering Tones blush in Pink tones a few years back. I wanted it so badly and we never got it! I later saw it in Hong Kong but decided then not to get it because it was very light. But that's another story 🙂
Clinique's offering of a Butter Shine lipstick in Ribbon Pink (limited edition) comes with a silvery case. Costing US$16.50 a whopping US$10 is being donated to breast cancer research!
There are a few other brands doing the Pink Ribbon campaign but they aren't available here at this time – Smashbox, DuWop and Too Faced are a couple more.
I'm not sure if the Pink Ribbon collections by Bobbi Brown, Estee Lauder and Clinique will be available here but if they are, it would be great! It would be quite meaningless if we get them only after October right?