Before I show you the Majolica Majorca goodies you can win in the giveaway, here's some pictures of the Majolook Trick On eyeshadow palettes. I had the previous Majolook palette with the cream eyeshadow base which was nice but oh! nothing beats the Trick On palettes!
If only I weren't allergic to these, I'd buy them all! 😛 Ok, maybe not all, but the green one for sure. I managed to swatch it and the colours are so soft and fine and shimmery I was tempted to get a palette anyway. Fortunately sanity prevailed 😛
Here is the swatch of the Majolook Trick On eyeshadow palette in GR750. Thats the 1st palette from the left in the first picture.
I was very surprised when I touched the powder eyeshadows. They felt very soft to the touch and the powder was very fine. The pigment is quite impressive too, with the colour coming off on the skin quite close to what you see in the palette.
There is shimmer but it isn't super shimmery and glittery. No big chunks of glitter in this palette, just soft fine shimmer. Sigh… I like! Each palette retails for RM53.90 which is not expensive at all for the quality you are getting.
Since there are only 3 days left to the closing date of the Giveaway, I thought now would be a good time to show you what you might win if you have joined the Majolica Majorca Giveaway right here on My Women Stuff.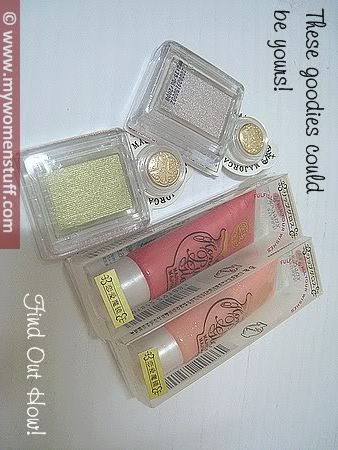 As promised, 2 sets of the the Majolica Majorca Shadow Customize and Honey Pump gloss for 2 lucky readers – one set for International readers and one set for Malaysian readers! I picked out my favourite colours from the counter and I hope they will be your favourite colours too. The lip glosses look so cute, I want one myself! 😛
If you haven't joined the Majolica Majorca Giveaway what are you waiting for? Go to the giveaway link and read about how to take part (do not enter here). Please remember to activate your subscription. I see some subscribers have yet to activate which disqualifies you from the contest – that's a pity right? If you've subscribed and have left a comment but it isn't showing up, do email me at mwsgiveaways (at) gmail (dot) com.
I don't see many International people taking part yet so if you are a reader of My Women Stuff from outside of Malaysia do note that this contest for some Majolica Majorca goodies is also open to you. 🙂
This contest is open to ALL readers worldwide and comments and contest closes at 12 Noon 10 October 2008 (Friday) Malaysian time (+8 GMT) so hurry! 🙂