Women are a vain lot aren't we? We love making ourselves look beautiful and why not? 🙂 One of the most ego-boosting beauty things a woman can do is to go to a hair salon. Don't tell me you never step out of a hair salon with a little spring in your step and a toss of your newly coiffured hair as you admire yourself in every plate glass window you come across? Or maybe its just me lol… 🙂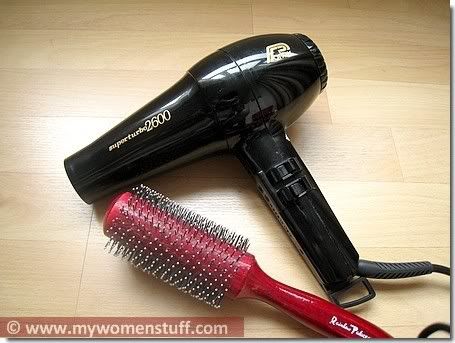 I managed to work out how to look like I just stepped out a salon right in the comfort of my own home. The secret for me – blow drying my hair.
I'm blessed with straight hair that has lots of volume and holds it shape well. However, when I air-dry my hair, I find that it loses some of the volume and has a horrible tendency to stick out in any old direction, especially at the ends. This isn't a very professional look at work. I'm all for air-drying your hair naturally. Its good for your hair and doesn't dry it out and damage it. However, I find that a little blast of hot air can do wonders.
Blow dry your hair into shape before air drying
To combat the messy hair look, I do this:-
Towel dry the hair to remove excess water.
Comb the hair with a wide-toothed comb to remove any tangles
Tilt your head down and blow dry the hair starting at the roots and along the hair shaft until semi dry (I use my fingers to roughly separate the hair)
Blow dry the hair back into shape using a barrel brush (round brush) at the ends
Air dry naturally until fully dry.
When I do this, I can go to bed and wake up with hair that retains its shape and style. I can then comb or style and go without further touch ups in the morning. If I don't do this, I look like I just got into a cat fight, with hair sticking in every direction. I also find it harder to get hair back into control once its dried into a strange shape and believe me, I've had my share of strangely shaped hair. You can read more tips here.
Why does blow drying make hair look better?
I reckon its the introduction of air which provides "lift" at the roots. I was inspired by this thought one day as I was baking an apple tart and watching the pastry rise. Just as heat causes puff pastry to rise and puff out, so too does heat cause our hair to "lift" itself up and hold its shape. Think of a souffle and I think its the same idea. Can you tell I love my food too? 😉 Anyway, I hope my theory is right.
Blow dry with moderation
With all that hot air from the blow dryer, your hair can get easily dried out and damaged. So, blow dry with moderation. I only blow dry my hair on days when I know I need to look good or when I see my air dried hair getting out of control or if its late and I really need my beauty sleep. I don't usually blow dry my hair on weekends unless I'm going somewhere. Sometimes if my hair is messy, I just pin it up or tie it back. Easy solution!
You can also use a serum to protect your hair before blow drying it and treat your hair weekly. The coconut milk hair treatment works a treat – its natural and and easy and above all, cheap!
So, now you can look like you just stepped out of a salon every single day! 🙂