The easiest gifts to get a woman for any occasion be it birthdays or Christmas, is the perfume coffret sets that cosmetics companies put together in a value pack. Not only do you get a lovely looking gift, it is usually value for money as it comes with miniatures or body lotions in matching scents. It can be rather trite but unless a woman is allergic to alcohol, few women say no to a gift of scent.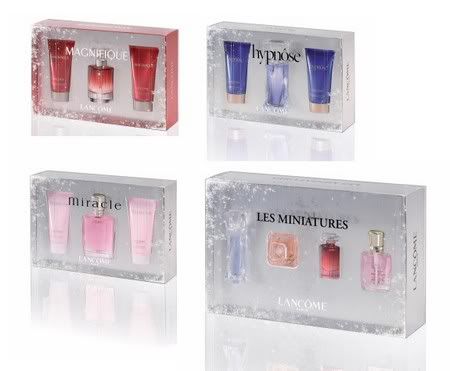 Lancome's perfume coffrets are out at the counters locally but I'm not eyeing any of them because I've got my eye on the VIRTUÔSE mascara set!
The Virtuose mascara set comes with a Virtuose mascara, a mini pencil eyeliner and a mini makeup remover all for RM93. This is the same price as that of the mascara alone, so its a good time to test this mascara. I've said before the Lancome Flextencils mascara worked well for me and then like everything else that works for me, it was discontinued. I'm told that the Virtuose Mascara is the replacement so I'd like to try it and see if it measures up. Lancome perfume coffrets are available for sale at Lancome counters and retail for RM230 a set.