I am a stranger to Etude House a brand from Korea. I am familiar with Etude as I've tried some of the products before this some time ago but I'd never heard of Etude House before this. Based on the Korean site, it appears that Etude House and Etude are the same brand. Anyway I'd read about Etude House opening a large store in Sunway Pyramid but it is way too far for me to get there. So, it was with great surprise that I saw a little store in the Jusco complex in Metro Prima Kepong! Its not as far as Sunway from where I live so that's great, plus I get to do my grocery shopping at the same time AND get free parking! 🙂
I spoke to the girls there and found out the store is only 2 weeks old. Happy me! Now I don't have to drag myself all the way to Sunway just to see what the brand is all about!! I also picked up their star product – BB Magic Cream to try.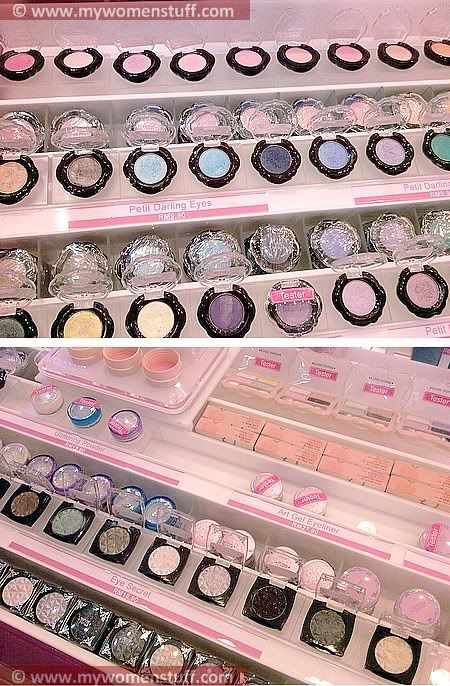 I was told that with purchases of RM50 and over, I could get a box of cotton pads free. These imported cotton pads from Korea are very soft and do not tear or pill easily. I've used similar cotton pads from Japan and I love them so I also picked up an Eye Secret Eyeshadow to test. It will be part of my Cheap and Good series as the eyeshadow is only RM18.90 – cheap!
There is another cheaper eyeshadow called Petit Darling eyeshadow retailing at a mere RM9.90. However I disliked the texture. I have to admit the packaging is very cute though. They reminded me immediately of Lavshuca eyeshadows (and have similar gritty texture).
I opted for the slightly more expensive Eye Secret eyeshadow that retails at RM18.90. The texture reminded me of T'estimo eyeshadows and packaging reminded me of Lavshuca! I kid you not the resemblance is uncanny. The Eye Secret eyeshadow is much smoother than Petit Darling although one or two colours feel a little gritty. One colour GR620 reminded me so much of the infamous Erika F from Lancome Ombre Absolue I felt like buying it just to compare! 😛 Fortunately sanity prevailed. Not to say I won't do it some time though. 🙂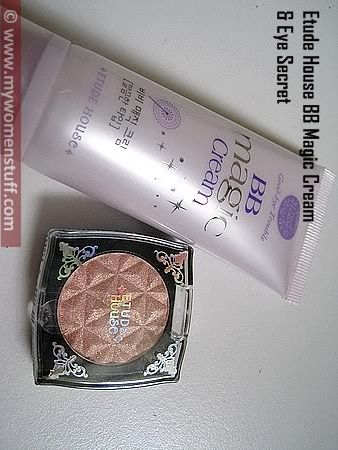 I'd been reading so much about the BB Creams from Korea that I felt I just HAD to give one a shot and Etude House seems to get raves. I bought the Etude House BB Magic Cream in the Refreshing formula (RM42.90) that has no SPF. This is because my day moisturiser already contains SPF. There are 3 formulas – Moisturizing, Refreshing and with Sunscreen of SPF30 (RM49.90). Moisturizing is for those with dry skins and feels more creamy while Refreshing is for normal-oily skins and feels lighter. Also, I love the tagline on the BB Cream – Goodbye Trouble. Gotta love it!
What are BB Creams?
BB Creams or Blemish Balms are Korea's latest hit product to take the world by storm after the Korean mini-series, Korean tv stars and Korean restaurants 😛 BB stands for Blemish Balm and were originally popularized in Korea to treat post laser skin treatment skin to protect them from the environment and to help heal.
These creams are "all-in-one" creams which combine sunscreen, makeup base, foundation and concealer so you only have to put it on and you are good to go. For those that contain sunscreen that is also all you need after cleansing. I am always leary of "all-in-one" but I guess its worth a shot to try since so many people say its been good for their skins.
The purpose of the Blemish Balm is two-fold – to cover up blemishes and to help cure blemishes. I'm not too certain about the latter but I will be interested to see if the BB Magic Cream does in fact cover blemishes without the aid of concealer. I have these nasty acne and pigment spots that I'd like to see covered without the aid of concealer. Many people have reported having better skin too after using BB creams which is a curious side effect of a cosmetic. I will be sure to report my own experiences.
I found prices at Etude House average for a Korean brand with the most expensive item retailing at about RM70-80 or so based on my quick survey. The price range does appear to be in the region of Skin Food or The Face Shop products but I prefer the look of Etude House compared to the other two. Etude House just looks less teeny boppy and girly somehow – I think its that cherub on the Skin Food logo that gets to me 😛
Reviews will follow in a month for the BB Magic Cream and maybe in a shorter time for the eyeshadow. Stay tuned!