First there was Nars Orgasm blush and now, there's SUPER ORGASM to save the day!! *cue fanfare*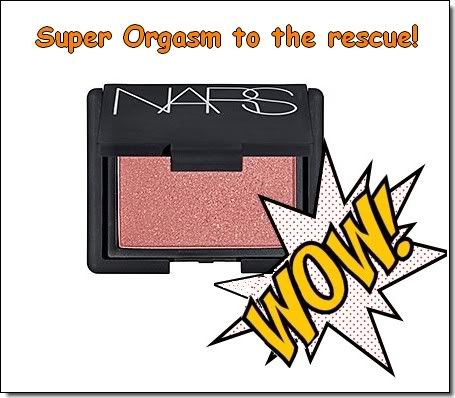 Sorry its corny 🙂 But those were the first things that popped into my head when I saw the Nars Holiday 2008 offering.
For Holiday 2008 Nars has introduced a new improved Super Orgasm blush. According to Sephora:-
Super Orgasm takes NARS most celebrated shade and adds soft, golden speckles to give your contours and complexion a shimmering accent. The blush contains a universally flattering peachy-pink undertone and can be worn alone or layered together for more depth.
So, I guess we are looking at Nars' Orgasm blush with added golden shimmer. Some preliminary reviews online have said that the gold sparkles are glittery and we are looking at a Super Disco-ball. But others have said that its lovely and more pigmented than Nars Orgasm with more pink than peach effects.
We don't get Nars here in Malaysia so there's no chance of me checking this out in person to compare with the regular Orgasm blush. If you can't get hold of Nars Orgasm or Super Orgasm, try checking out the dupes for the Orgasm blush. Maybe you already have a similar one in your collection!