While browsing Sephora, I came across something really cute from Stila – the Backstage Beauty eyeshadow palettes.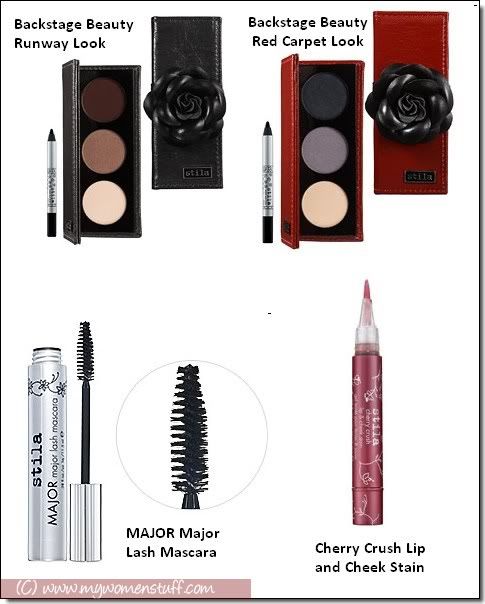 The Backstage Beauty eyeshadow palettes are limited edition and come in 2 colour combinations – Runway Look and Red Carpet and retail for US$40.
The Runway Look is a 3 pan eyeshadow palette with brown and taupe colours and a kajal pencil eyeliner. The 3 eyeshadow colours are matte and shimmer shades and don't have a name. What makes this palette cute is the Rosette around it. It not only holds the palette together, it can be used as a hair or wrist accessory too. Cute? I think so.
The Red Carpet palette is similarly a 3 pan eyeshadow palette and a kajal eyeliner. The description is that of grey and pewter colours, but I think they look a little lilac in the picture. I'd be interested in this palette because this combination of colours suits me better than the browns.
The other 2 items are nothing new but are new to Sephora – Major Major lash mascara (an improvement on Stila's iconic mascara) and Cherry Crush lip and cheek stain which I previously mentioned is probably Benetint in a pen and I'm told that Benetint does exist in pen form! So, there you go. I don't know if or when we'll get the eyeshadow palettes, but I would like to check them out, if only to see how cute they are with the rosettes and to see the colours in Red Carpet. Perhaps they can be duped? I am guessing they can. But without seeing I won't know will I? 🙂