A while ago, I gave my tips on how to use cleansing oils effectively and one of the tips I mentioned was to use the oils straight on dry skin. Reader Lav left a comment that said it was not true of all cleansing oils as Biore's Oil Cleanser can be used in the shower on wet skin. I was intrigued because I'd not seen it here in Malaysia.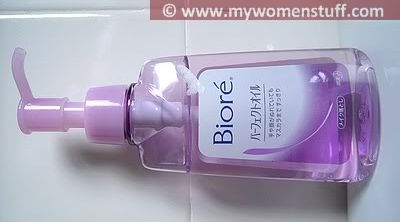 While I was in Hong Kong, I came across the Kao Biore Oil Cleanser in Watson's and decided to get it to see if it really does it says – work in the shower.
I tested it that night itself, deliberately wetting my hands and face before using the Biore Oil Cleanser. Since I'm used to the dry method, this was something new to me, and I was very surprised to find that the Biore Oil Cleanser goes on the skin smoothly but without emulsifying.
How most commercial cleansing oils work is by emulsifying upon contact with water to clean and wash off the dirt from the face. It also leaves the face feeling clean and smooth. The Biore Cleansing Oil on the other hand does not do this and leaves my skin feeling a little oily even though clean. It may be my imagination but I always have to use a foaming cleanser afterwards. The oil feels more oily and sticky to me than other cleansing oils I've used and takes a while to wash off the skin.
However, I have to admit that it does do what it says i.e. take off waterproof mascara and makeup even when used wet – bit it takes a while and it takes some effort to slowly massage the oil into the mascara. It takes it off in the end but takes a lot of effort. I'm now using it on a daily basis to finish it up and I've alternated between using it dry and wet to see how it works. When used dry, I find I have to use at least 3 pumps of oil as it is oily so tends to stick to dry skin and does not cover my face well. Then, when I rinse, I am perturbed to not see the emulsified white colour of the oil that tells me its doing its cleaning job. Again, it does remove makeup, even stubborn mascara like the Dejavu Fiberwig mascara and does leave the skin clean. It just does not feel that way to me. It does work better on wet skin and you end up using less.
Perhaps I'm just used to other forms of cleansing oils but after trying this one out, I don't think I'll be sticking to the Biore Oil Cleanser. The fresh green apple scent perks me up after a long tired day, but the texture and method doesn't suit me so once I'm done with this bottle, that's it for me!
I have not seen the Biore Oil Cleanser here in Malaysia yet (unless I've missed it somehow) but its available in Singapore and Hong Kong. Its not very expensive, retailing at an equivalent of RM2X per bottle (I think).
Pros: Inexpensive, Convenient to use in the shower, removes makeup and waterproof mascara

Cons: Does not suit me, More oily in feel
[rating:2/5]