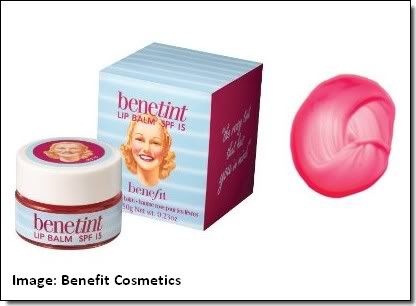 For lovers of Benetint, here comes the new Benetint Lip Balm SPF15
!
Benetint Lip Balm is a tinted lip balm infused with Vitamin E and SPF15 to soften and protect your lips. It also has a light rose petal smell and lightly tints the lips benetint's signature rose red.
I was afraid of Benetint the liquid because I can't see me using it on my cheeks, but I can see me using the Benetint lip balm especially since I'm now into sheer lip colours. I can't wait till it comes to Malaysia so I can test it out to see for myself how good/bad it is.
The only thing that makes me balk is the price – US$20 for 6.5g is expensive! You can now buy the new Benetint Lip Balm SPF15
online and for a limited time until September 16, 2008, there is FREE SHIPPING within the USA for all orders that include the lip balm – use the code "BALMBENE" and for international orders, shipping is free for orders above US$100 – use the code "INTLSHIP".