I was surprised one day to receive an invitation to attend a little event hosted by Lancome for some bloggers at the Lancome Beauty Institute in Bangsar Village II. This is the place where you can get facials and body treatments using Lancome products and I can safely tell you that it is a wonderfully luxurious place! I'll return some day for a facial and then we'll get a proper review 😉
What I was there for however, was to attend a special preview for the Lancome Maquicake UV Infinite 2-way powder foundation. This powder foundation is already available in the stores but Lancome wanted to show us some nifty little experiments that prove their selling points!
We were treated to a little talk and explanation of the product by Lancome's National Makeup Artist Zamri Zainol. The man has been with Lancome for nearly 10 years now and boy is he knowledgeable! I tried to pry out information on trends for 2009 since he had just returned from Paris (*envy*) but he was tight lipped about it 🙁 We'll just have to wait and see I guess. Still, I was promised that it would be new and exciting and for a serious brand like Lancome, "new and exciting" sounds good to me!
The Lancome Maquicake UV Infinite 2-way powder foundation is specially formulated for Asian skin and feels very light and soft with a silky smooth texture. It also contains SPF20/PA++ I tried doing some research online but it appears that the Maquicake UV Infinite is available in Asia only for now.
The Maquicake UV Infinite promises to be:-
anti-sweat
anti-sebum
long lasting
waterproof or water resistant
Light velvety texture
To prove their claims, Lancome undertook 2 tests.
Test #1 – Maquicake UV Infinite is Waterproof
Zamri came around with a brand new Maquicake UV Infinite foundation and had us all test it. Amid exclamations of "Ooh! So soft" and "So smooth!" he proceeded to dunk the whole compact into a beaker of water!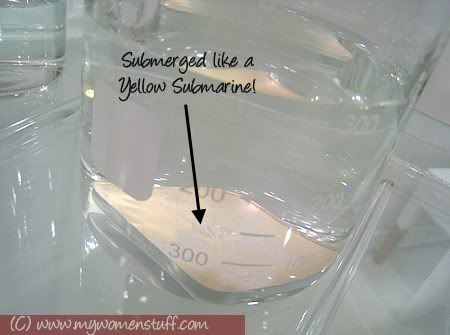 That powder better jolly well be waterproof or it would be a waste of a perfectly good powder foundation! But not to worry. A few minutes later, he fished it out of the beaker, dabbed the water off it and got us to test it again. The powder surface was bone dry and the powder applied as normal! Amazing! I asked how long it could remain submerged and I was told that they had tried leaving it for a week and it still worked fine. So, if you are going diving or swimming and can't leave home without your makeup, Maquicake UV Infinite might be the powder for you! 😉
Zamri says that the Maquicake UV Infinite will repel water so you have no fear about getting rained on but it will easily clean off. Waterproof makeup does not mean makeup that sticks to your skin but think of it like Teflon – it will repel water and keep looking good unless you wipe it off. So, the trick is to dab off sweat and water and you will be fine.
Test #2 – Maquicake UV Infinite is light as air
From touch you can tell that the Maquicake UV Infinite foundation is light. But Lancome claims that it is so light, it will feel like next to nothing on your skin.
Zamri scrapped some powder off the surface of the compact into another beaker and voila! The powder floats. Not only does it float, it remains floating on top of the water even when stirred and left on the table. No gunky residue at the bottom of the beaker. It felt like I was back in the chem lab to see and play with beakers and glass rods all over again 🙂
Because it is so light on the skin, Maquicake UV Infinite foundation offers a translucent velvety soft finish. Believe me, I will be putting all this to the test when I review the Maquicake UV Infinite in an upcoming review. 😉
The Lancome Maquicake UV Infinite 2-way powder foundation can be used dry for sheer coverage or with a damp sponge for medium coverage. This powder foundation is presently in 6 shades and it is available in refills. The case is RM50 and the refills are RM126 each but it will fit into other Lancome powder foundation cases too.
And what's meeting a makeup artist without getting some makeup tips off him?
Tip #1 – If you feel your face getting shiny throughout the day, use a piece of tissue to DAB on the shiny areas. Do not wipe or your makeup will streak and look unsightly.

Tip #2 – When applying powder foundation, dab it on lightly with a sponge then blend outwards towards your hairline for a more natural look and finish. If you just wipe it on downwards with your sponge the coverage maybe too thick and you risk looking cakey.
Thanks for the tips Zamri and thank you Lancome for a most entertaining and instructive evening!