I don't pay much attention to Estee Lauder as I keep saying, but ever since the Chocolate Decadence collection, Estee Lauder has reignited my interest in the brand. That and their new more elegant, more luxurious looking packaging.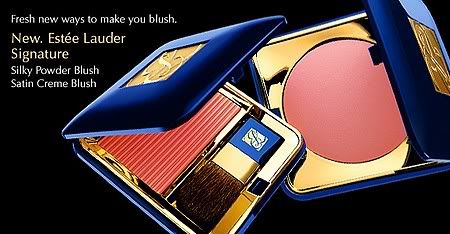 I saw on the official Estee Lauder website that they have launched a new Signature blush in powder and cream.
For a moment, I wondered what was new about it. Didn't Estee Lauder always have blushes in their lineup?
The answer lies in the type of blush they used to carry. Estee Lauder used to have a blush called Tender Blush that had gradational colour. I used to look at it every time I passed the counter because it was quite pretty, but I never got round to buying it because some of the colours were quite bright and scary looking. I was assured that the Tender Blush is really very nice and of good quality but I've never worn it on my cheeks so I cannot tell.
The new Estee Lauder signature blush comes in Silky Powder Blush and Satin Cream blush. The powder blush looks like the formula that they have in the Estee Lauder Holiday Blockbuster sets with the ridges on the surface.
I've never used an Estee Lauder blush before this. Perhaps now would be a good time to start. 🙂 I'm not sure if or when its expected in Malaysia but if anyone has info that'll be great.