I was just at The Body Shop yesterday picking up a replacement bottle of Vitamin C Skin Boost when my eyes fell on a new Body Shop makeup collection. I'll be the first to admit that The Body Shop makeup doesn't excite me, but for some reason my eyes were drawn to this one.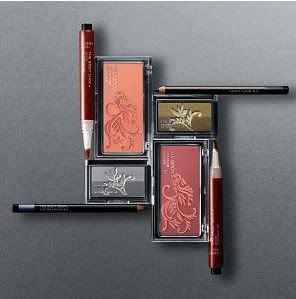 The Deadly Desires Collection (Source)
Can you see why?
Isn't this just about the prettiest Body Shop collection ever?! This is the Deadly Desires collection by The Body Shop – a rather strong offering which I found surprising from this rather bland brand. I mean, a name like Deadly Desires sure does not conjure up an image of The Body Shop! 🙂
The main reason why I was drawn to it was because the blushes made me think of Shu Uemura glow on blushes. They had the same rectangle pan and wasn't there a Shu Uemura collection that had a pretty pattern on the surface of the blush? The difference is that The Body Shop pans are much larger.
Here is another picture I collaged from Bjooti.net.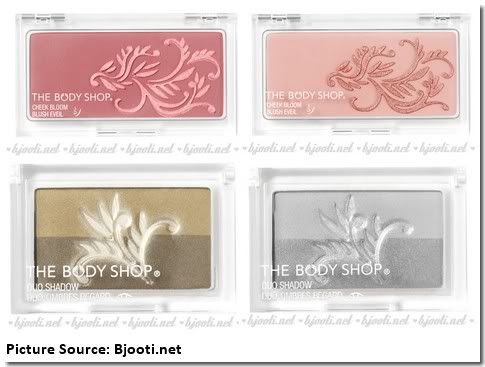 Deadly Desires Cheek Bloom and Duo Eyeshadow (Source)
I was in a bit of a hurry so I failed to see how much they cost. However, I did quickly test the blushes and eyeshadow and oh my goodness! I'm in love!!
Ok, maybe in lust 😛
Firstly, the blushes. I've owned a Body Shop blush before. The usual one that comes in the round pan. I must say the quality is good and so is the staying power. I'm not quite sure where my blush has disappeared to now.
The 2 blushes are Cheek Bloom blushes in Desert Rose (rose) and Dune Pink (peach). The blushes have shimmer but are very finely milled and the texture feels really nice. Dune Pink is a light peach pink that is beautiful. The pattern on the surface is raised and has a dusting of shimmer on it. It truly is gorgeous. Desert Rose is a straight medium toned rose pink but I did not test that one.
But the ones that really surprised me were the eyeshadows. There are 2 duo eyeshadows that come in a rectangle pan. From previous experience with The Body Shop eyeshadow singles, I was not impressed. The texture is hard and pigment was poor to me.
The Deadly Desires eyeshadow duos however, are divine! They are soft to the touch and apply smoothly with fine shimmer and decent pigmentation. Khaki Green has a bronze shade with green tones and a dark olive green while Eucalyptus Gray has a light silver and a medium gray. The pattern in the middle is embossed quite deep and has shimmer.
The 2 pen things you see are Lip Clicks which are lip gloss in a clicky pen with brush applicator. Think Stila Lip Glazes and you've got the idea. There are 2 colours – Spice Red (red) and Dusky Pink (rose). There are also 2 metallic eye pencils – Rocky Blue and Cactus Green; and a mascara.
I have never been tempted by a Body Shop collection before but Deadly Desires is definitely a deadly tempatation! I may find myself back at The Body Shop again quite soon, I fear.
PRICE UPDATE: Eyeshadow duos are RM55 and Blush prices are RM79. I just bought Dune Pink and the Grey duo at the airport! 😛 They are due to launch officially on 29 August 2008 and I was told they do not qualify for the sale discounts.