I have a phobia of cream blushes.
There I've said it. I first tried cream blushes with Becca Turkish Rose. It was gorgeous but I could never get the hang of blending and applying it naturally. So, much as I'm tempted by all the lovely pictures and uses of Benefit Cosmetic's Benetint and Posietint (See Kahani, Tine and Geekchic) I can't see myself getting or using them as I'm such a klutz with cream/liquid blushes.
Enter Stila Convertible Color Dual Cheek and Lip. A cream cheek and lip product. It acts as a cream blush or as a lip colour. Personally I think it works better as a cheek color and I'll explain why below.
The packaging is pretty as are all Stila products. The case is sturdy and there is a largish mirror inside the top cover. The compact is quite slim which makes it easy to tote around if you like to touch up. The cream colour itself is large and the colour of the case represents the colour of the product which makes it easy to find in your drawer.
The colour I have is Lillium which is a peachy toned colour with slight brownish undertones and no shimmer.
I took this one on holiday because that's the best time for me to test the wearability of products. I first used the convertible colour for the cheek as a blush. Since I was on holiday, I opted to use my fingers as I read this is the fastest and best way to blend cream blushes.
My fingers picked up the colour easily and I was quite surprised that it was quite pigmented. I swiped it on my cheeks and working quickly, blended it. Surprisingly, it was not creamy nor oily on the skin at all, but was in fact quite gel-like. I applied it the first time on bare skin and then layering loose powder over it. The next time, I applied it over powder foundation and then dusted some loose powder over to set it. I prefer how it looked the second time round. It is nice that the Stila Convertible Colour works on top of powder without streaking or looking patchy. It doesn't dry that quickly so you do have time to blend it to your satisfaction.
I applied Lillium in the morning and was out in the hot sun the whole day, sweating. To my surprise, the colour was still there even in the evening. So, that means that the Stila Convertible Color wears well and lasts. It did not make my skin feel or look oily which is a super plus point.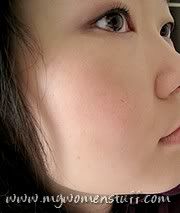 When I returned, I decided to try
another way of applying the Stila Convertible Color and I decided to use a brush
. The brush I used is a two toned stipple brush also commonly called a "skunk brush" because of the black and white bristles. You can see a picture of it in my
review of NARS Taos blush
.
What I did was tap lightly on the surface of the Stila Convertible Color, picking up some colour on the tips of the white bristles. Just a little is fine. Then, I dabbed it to my cheeks on top of powder foundation, and with a swirling motion, blended it in.
What I then got was this as you see in the picture – a nice light flush of peachy colour without the hassle of using my fingers! I was ready to put Lillium aside but now, I might just find myself using it a lot more often. Yay!
Lillium turned out to be a pretty peach colour on the skin, which is light but can be layered for more intensity. It has no shimmer, but you can dust a light highlighter powder or shimmer over it and I expect it will look very pretty. Its definitely a colour for the day.
As for the other use of the Convertible Color i.e. for the lips, I found that firstly the colour Lillium did not suit me for the lips. Maybe a redder shade might. Secondly, I found it a little dry for use on the lips. But I suppose if they made it more emollient then it would be sliding off the cheeks so there's a trade off.
I can now see why the Convertible Color is one of Stila's bestsellers. Its convenient and pretty and works great as a cream blush! The price of Stila Convertible Color is RM88 per pan. Not too expensive, I thought as its a large pan and can last a while.
Pros: Lasts long, Pigmented Colour, Portable, Easy to blend, Dual Uses

Cons: Dry for lips
[rating:4/5]