This is a Guest Post by the gorgeous Nikki of Askmewhats
PB says: I don't write enough about hair because I have shortish hair and I keep it that way because I'm unimaginative and a klutz and lazy. But if you have long hair, Nikki has a great tip for easy sexy curls and I can imagine someone with medium length hair might give this one a whirl too! I know might some day! Enjoy!
(Nikki Says: Different hair types and textures react differently, I suggest to give this a test drive first before and understand how your hair reacts before doing this before a big event/party)
I have been creating my own waves/curls for special occasions and I never use a curling iron or rollers. What do I use? My lovely fingers and clips and of course, practice and patience! Here's how:
Step 1: Use any curling booster that works for you. (especially for hair who's got it's own mind)
Step 2: Apply curling booster all over your hair making sure all areas are covered
Step 3: Grab a section of your hair and wrap it around your fingers. (2 fingers, 3 fingers, depending how big the curls you want to create)
Step 4: Remove your finger from the "rolled" hair holding it tight
Step 5: Clip it with a big clip or bobby pins (anything you have at home). I find using the clip on photo easier (can purchase them at any Watson's Store)
Step 6: For clearer view, I did the same steps at the back, pull the sectioned hair upwards
Step 7: Roll it with both hands creating a "hair roll". Clip it!
Step 8: Here's how it looks like back view. Note: You don't have to make the sectioning perfect! See how messy it looks? The messier the better as the curls will look more natural!

Step 9: Blow dry it with heat to activate the "curls" especially if you're in a hurry.
Step 10: Remove the clips carefully making sure not to "pull" the hair. Style as desired! Smile and enjoy your sexy waves!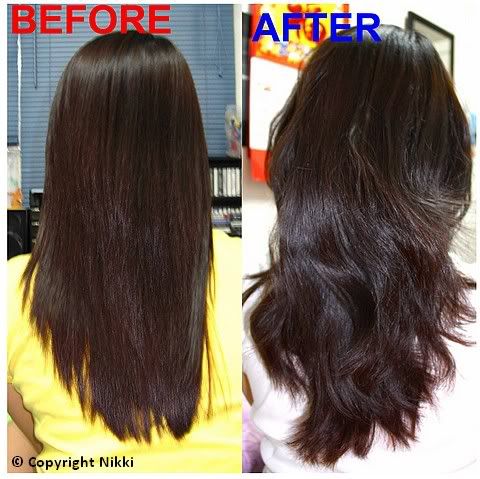 Tips —
No time to do this in the morning? You can do this night time before you go to sleep (I suggest you use bobby pins as it's more painless). Wake up with lovely curls!
For rebonded hair, you definitely need curling product and the help of a blowdryer.
You can spritz on setting spray to hold the curls. (only if needed)
Enjoy the experience! Do not sweat on it if hair kepts falling all over, messy wavy curls are sexy!