I often get queries through email, asking me why I don't write about certain popular skincare brands in the market. I thought I'd explain briefly why I don't write about certain popular skincare brands. Other than the fact that my skincare regime now consists of quite low-end products, the simple reason is that I did not have a good experience with many of the major brands.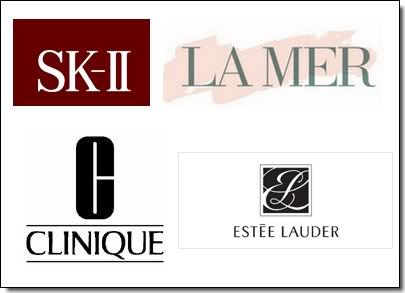 SK-II
SK-II (pronounced S-K-Two) is a luxury brand under the Max Factor and P&G umbrella. It is popularized in Asia through the use of Asian celebrities in advertisements who extol the virtues of the product, in particular "pitera" the wonder ingredient that keeps the skin smooth and young. The products come in the signature red/maroon packaging and are very expensive.
I used the SK-II range when it was first launched in Malaysia. I was using nearly all the products in the line and I liked it… until I started breaking out from it. I found that it was hard to go off the products without having your skin go crazy so I bit the bullet, let the skin go crazy and then it was fine after that.
I've never gone back to using SK-II and that is why I don't write about it here.
La Mer
La Mer is the super expensive wonder cream that purportedly J.Lo uses all over her body. The cream is very thick and you have to "activate" it by rubbing it until it softens, then pat it on the skin.
I started with the La Mer Lotion which was pretty thick for a lotion. You use it the same way as the cream – warm in the palm of your hands then pat on your face. When I started using the product, I found an instant glow to the skin when applied. I kid you not. Everyone noticed it. This cream was supposedly discovered by a Nasa scientist who created it to heal his burns and I thought it was helping with my acne scars. Three quarters of the way through, my skin went totally nuts and started breaking out from the cream. Nothing I did would calm it until I stopped using the La Mer cream. RM600 saved!
Clinique
I had heard a lot about Clinique's famous 3-step programme and their Dramatically Different Gel/Cream moisturiser and Total Turnaround cream that was supposed to turn your skin around and make it soft and smooth. I got my hands on samples, tested them, and had a major breakout.
Many people I know are fine with Clinique, finding it good for their skin and mild enough. I had a bad experience and so, I don't dare go near the skin products any more.
Estee Lauder
I was using Estee Lauder skincare products for a while. I don't think much of their cleansers in general, as I find them too harsh and drying. Their creams however, can be quite nice. I liked using the Daywear cream, as well as the Advanced Night Repair serum for the face and for the eyes.
I stopped using Estee Lauder because I moved onto other products and brands and I've never really looked back at them since. Partly its the pricetag and partly its the image.
I must confess that I actually like Estee Lauder lipsticks. They are pigmented and have a really nice smell. However they are now a little too pigmented for me as I've veered towards a sheerer lip look. Estee Lauder makeup in general is pretty ok too. I've been wanting to try their foundations as I've read some good things about them, but I just never got round to doing it.
Estee Lauder is a decent brand but it just doesn't excite me much so I don't write about it. That's not to say I won't ever write about it, I just haven't.
So these are a few brands I've been asked about. As for some other brands, I just never got round to trying their skincare products because of costs or because they don't excite me much. Are there other major brands that you wonder why I don't write about? I might do a part 2 to this! 🙂