When I was last in Singapore, I was fascinated by and picked up the Sana Maiko-Han foundation brush and mixing palette set. This pretty set of short foundation brush and 5 Japanese designed mixing palettes cost S$29.90.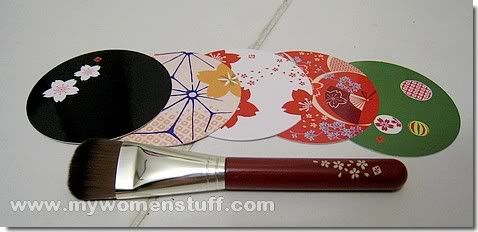 I've never really used a brush for liquid foundation before. I'd always used my fingers mainly because I found that it spread better. I've used this brush twice so far and I'm thinking ambivalent thoughts about it.
I like the mixing palette. It is laminated cardboard and one side of it has a pretty pattern and the other side is white. You place your liquid foundation on the white site and then use the brush to mix it and apply it on your face. It beats putting the liquid foundation on the back of your hand, which is what I always do.
The brush is short and just the right size for my smallish hands. The bristles are soft yet firm enough to apply the foundation on the skin. However, perhaps I'm not very good with it, but I find that applying liquid foundation with a brush is streaky. I keep having to double back to touch up the streaks which results in a thick layer of foundation which I do not like.
The other thing I did not quite like was the fact that the brush picks up a lot of foundation. When I use the brush, I end up using nearly double the amount of foundation because the brush absorbs the liquid and then applies sheer. When I use my fingers, nothing gets absorbed and I can control it to a fairly thin layer. Because it gets all gunky with foundation, I have to spend extra time cleaning the brush after use, which has made me late for work!
I'm not saying this Sana foundation brush is bad. I'm just saying that I prefer using my fingers to apply my liquid foundation because:-
It doesn't leave my foundation streaky
It doesn't use up a lot of foundation
I can control the thickness of foundation on the skin
Washing my hands is easier than washing a brush!
I haven't tried a sponge yet, but I have seen others using sponges and it too absorbs a lot of liquid foundation which for me results in wastage.
I suppose since I do my own makeup, I'll be sticking to using my fingers to apply my liquid foundation. However, if you do makeup on others, then brushes or sponges would be best for hygiene purposes and to cultivate a professional look 😉
The Sana Foundation Brush has only been used twice. Does anyone want to give it a good home? Please contact me if you do 😉 If you want to buy this Sana Maiko-han brush set, look in Sasa or John Little in Singapore or on Adambeauty online (HK118/US$17.50).
What is your preferred tool for applying liquid foundation? Fingers, Brushes or Sponge?