Since I was writing about Silkygirl's new makeup stuff in a previous post, I dug out an old picture of the eyeshadow duos for a review. You will notice that the eyeshadow duos in my picture say "Wet n Wild". That was what Silkygirl was before. Don't get it confused with Wet n Wild Cosmetics found in the USA though (they are awesome and cheap too!). The name was the same but practically nothing else was.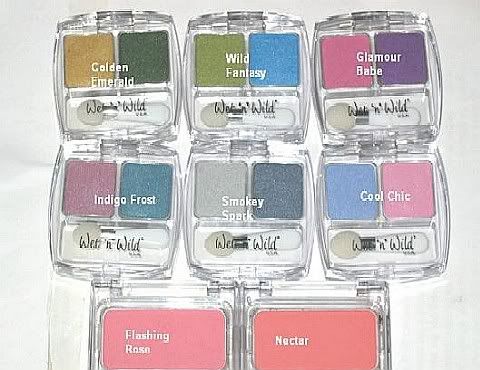 A few years ago, Wet n Wild cosmetics in Asia was rebranded into Silkygirl Cosmetics (presumably to avoid this confusion with the WnW USA brand) The company and products remained the same, only the name and packaging was changed.
The picture shows the eyeshadow duos and blushes I used to own. I picked out the colours that were more wearable (for me) and I really liked them. Until today, when I check out the Silkygirl counter, I still find myself drawn to the same bunch of colours as I had.
I found that the eyeshadow duos were nicely pigmented with slight shimmer and wore well. Their lasting power wasn't great but then, they were only something like RM15 each! I couldn't really complain. That said, it did last on me nearly a whole working day, which is enough as far as I'm concerned. I liked taking them along when I travel because I knew that it wouldn't break my heart if anything happened to them and I could just replace them easily. When they rebranded the name to Silkygirl, they added some other duos to the collection but the rebranding lost me as a customer because I felt the name was too cheesey and teenyboppy and the image was just too schoolgirl for me. I like to think me young at heart but I'm also a realist! 🙂
As for the blushes, I liked the 2 I owned. Flashing Pink was a cute bubblegum pink that was neither warm nor cool and did not change colour on the skin. Nectar was a nice peachy tone. They were and still are quite powdery but pigment wise, I don't really have much to complain about the blushes which applied well. The brushes included suck but hey, which ones don't?
I don't own any of the items in the picture anymore though, except Smokey Spark. If you are looking for a grey eyeshadow, I'd recommend you check out Smokey Spark. The dark grey isn't dark enough on its own to do a smokey eye, but it makes a good base mixed with black and the light grey/silver highlighter is perfect. The duo on its own makes pretty good day makeup too and I still use it for idiot-proof days.
On an overall basis, Silkygirl does fall into the Cheap and Good category, cheesey name and image aside.
Pros: Pigmented enough, has shimmer, cheap

Cons: May fade, color combinations can be weird
[rating:4/5]