I met up with some bloggers about 2 weeks ago for tea and being all girls, talk naturally turned to cosmetics, shopping and how regrettably expensive things are getting these days. Then, last week, I met up with another bunch of bloggers and again, being all girls (I sense a trend here!) talk naturally turned to cosmetics, shopping and how regrettably expensive things are getting these days!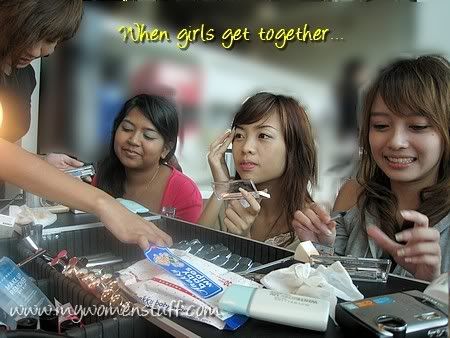 The only difference at the 2nd tea party was that there was a new toy for me to play with – Maybelline's Water Shine 3D Collagen lipstick (which fortunately is not expensive at all at only RM28.90!)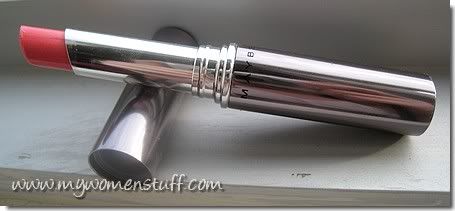 I had first noticed this new Maybelline lipstick launch a couple of weeks ago at a Guardian pharmacy. Maybelline comes up with so many new products nearly every month that I'm a little overwhelmed by the new collections. (Aside: I missed the Volume Express mascara promo but I'm told by my friend that its da bomb!) But this time, my eye was irresistably drawn to the display because it was about Maybelline's latest Water Shine 3D Collagen lipstick!
Maybelline's lipsticks were the very first lipsticks I owned way back and my all time favourite is their Water Shine Diamonds in Jewel Berry. I owned something like 3 and finished every single one of them before other brands took over my drawer! Try doing that now and I'd need lips all over my face … eww! My recent fave is the Water Shine in Dragonfly Red (which I wrote about before) So you can say I'm pretty much a fan of Maybelline lippies!
Since there were some Water Shine 3D Collagen lippies around, I took the opportunity to swatch them all (nearly)! Help you make an informed decision yet? 😉
As you can see, the Maybelline Water Shine 3D Collagen lipsticks are quite sheer. This means that dark colours (plum or berry shades) and bright colours (coral and red shades) are more wearable. It also means that I can wear colours outside my comfort zone, like a dark plum shade (No. 524 or 102) that I would normally avoid for fear of looking too gothic.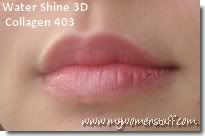 The fact of Water Shine 3D Collagen being sheer and shiny also means that I can wear light shades! Usually, I look like death in light lipstick, but with a little shimmer and shine, it is actually wearable. The picture shows me wearing 403 which is supposed to be a coral. See how bright it is in the tube, yet on my lips, its a light pretty day colour. Been wearing it for a week now – the longest I've ever worn one lipstick! Another aside: I'd be happier with names for lipsticks instead of numbers. Names are easier to remember for me because someone with a moniker of Paris B can't quite handle numbers all that well 😛
The sheerness of Water Shine 3D Collagen is unlike the Moisture Extreme lipsticks which are more opaque and look "heavier". I have noticed that the latest trend in lipsticks seems to be towards a sheer colour for greater wearability and it looks like Maybelline has caught on! That, and the slim packaging the Water Shine 3D Collagen lipstick comes in – sleek and sexy and so unlike the previous traditional bulky cases.
Like many Maybelline lipsticks, I found that the new Water Shine 3D Collagen lipstick is very smooth and applies like a dream. This is possibly due to the smooth natural oils and collagen in it that provides a lighter smoother application and wear.
Anyway, since I'm writing about the new Maybelline lipstick, I thought to share some lipstick tips here as some of us were talking about lipsticks during the tea party:-
Tip!
As we all know, lipstick disappears very quickly especially when you are eating and drinking. To help lip colour stay on longer, pat on a little powder/foundation on your lips, apply lipstick, blot with tissue paper to set the colour, then apply again. The colour will last you a lot longer! This is especially useful when you are using a bright coloured lipstick, like a bright red, because faded bright lipsticks are obvious.
This is also where using a sheer lipstick like the Water Shine 3D Collagen has its advantages because it isn't so obvious once its faded. Further, Water Shine 3D Collagen has a new shine lock and release formula which allows shine to be reactivated by pressing your lips together. It does work… to a degree, but of course, not once its all gone!
There's another tip about keeping lipstick on while drinking that never really caught on for me. The tip was to lick the side of the cup before drinking and your lipstick won't transfer onto the cup. However, I'm either very unrefined or too uncouth because I still end up with my lipstick all over the side of the cup and I never perfected the art of unobtrusively licking at the rim!
Modeled by the lovely Sarah – thank you!
Tip!
If you have thin or light coloured lips, then you can use a brighter colour lipstick or a lipstick with plumping or glossy qualities. Lipsticks like the Maybelline Water Shine 3D Collagen is supposed to have plumping qualities while the Water Shine line is glossy. Water Shine 3D Collagen has shine molecules that help amplify colour and give a more in-depth natural brilliance. What this means to you and me, is more moisturous, plumper looking lips without the pain of collagen injections or lip numbing "lip-plumpers". If you have thick lips you can still use glossy lipsticks, just tone down on the colour or use a colour that is closer to your lip colour. You get sheer shine, not bee-strung lips.
Of course, you can't talk about using lipsticks without mentioning "feathering" or "bleeding" which happens when lipsticks run into the lines of your lips and outside of your natural lipline.
Tip!
Use a lip liner. Not only does a lip liner define your lips, it helps create a "barrier" to prevent the lipstick from "feathering" or "bleeding" outside of your natural lip line. This is common if your lips are very lined or if you use a lipstick that is too glossy or too creamy. And when choosing a lip liner, either choose one that matches your natural lip colour or one that matches your lipstick. Do not choose one that is darker or brighter, to avoid that "ring" around the lips which is truly unsightly to me! Using a sheer lipstick also takes care of this problem somewhat because even if there is slight feathering or bleeding, you can't tell!
I have a couple more tips, but why don't you share your lipstick tips with me for a change? 🙂
BTW, I give Maybelline Water Shine 3D Collagen Lipstick [rating:4/5]