I received an email from Intan one day who had a query about her makeup application. Although she had the right foundation/ compact powder colour, and used a light hand, she still felt it went on too thickly. Intan wanted to know if there were any tips to overcome this.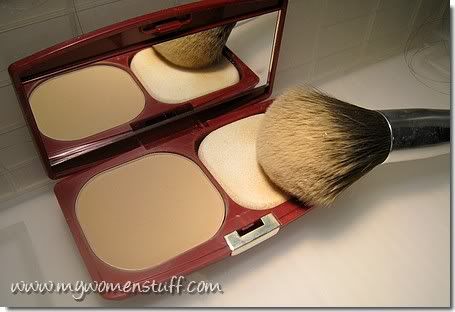 I have replied to Intan but I thought this was a very interesting point, so I decided to write about it here too.
My advise to Intan was to use a powder brush to apply her foundation or compact powder, instead of using the sponge that is provided. I have found that when I use the sponge to apply 2-way foundation or powder foundation, it does go on with medium coverage. Its good on those days when I feel like looking a bit more polished.
On other days, or maybe weekends, I use a powder brush to apply my powder foundation. Most powders go on more sheer with a brush, so this may overcome the problem of foundation going on too thickly.
This powder brush trick also works, if your powder foundation is too dark. I had an experience once, where I bought a powder foundation that was a little dark for me. Used with a sponge, I looked strange because my face and the rest of my body were different colours. When I hit on the idea of using a powder brush to apply it, it looked much better. Not a perfect match, but enough to get by without getting strange looks.
Happily, Intan reported that using a powder brush to apply her powder foundation worked for her and it is now more natural. Do you have any other tips to share on powder foundation that goes on too thickly? 🙂
Happy Weekend!
p/s I'm testing a new tabbed sidebar. It requires Javascript to run properly so if you are not seeing a tabbed box you will need to enable Javascript on your browser. Thanks!