About 2 weeks after I ordered my jewellery from Anne Dundas, I received my package! Shipping was quick – under 2 weeks from Australia to Malaysia and it came in a bubble envelope to protect the precious cargo inside. These are the 2 items I ordered.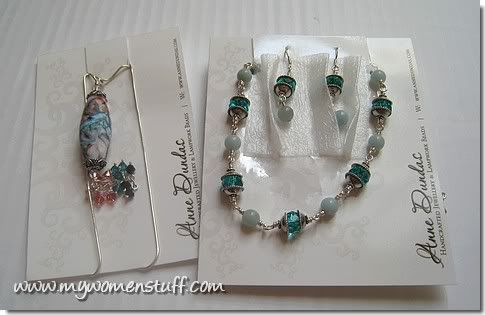 The first is a lampwork bead pendant on a silver chain. The other is a long necklace set with matching earrings.
I was too impatient so I didn't take pictures of the packaging. However, it is worth a mention because Anne packages each item in a clear ziplock bag, then wraps it individually in lovely lavender coloured paper and tied with a ribbon. The items are then further wrapped in another piece of paper to be more secure. I would have liked them wrapped up one more time in bubble wrap to be doubly sure, but I guess that will add to the cost. Since everything came in perfect condition, I have no gripes about the packaging.
And here are pictures of how they look on:-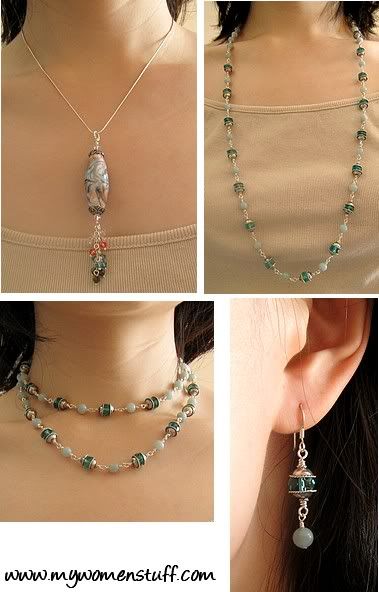 I was quite surprised initially when I saw the lampwork bead. I had expected something smaller. Not to say that I was not pleased though. It is matte and really pretty with all the colourful swirls on it. My mom actually said it was pretty which made me happy of course!
The green set is quite unique because the necklace can be worn long or doubled up short. I love the colour – the green is awesome! The matching earrings were also really pretty.
Anne charged me $3.85 for shipping which was very reasonable as it just about covered the actual shipping cost (based on the stamps on the envelope). I like it when sellers don't jack up shipping costs any old how and it makes me happy to purchase things from them.
All in all, it was a good experience shopping at AnneDundas.com. The best part of course, is that every piece is unique which adds to the allure. I will be popping by her site from time to time to see what else she has to offer!