A full 3 months after I wondered if Revlon would bring in their Limited Edition Floral Affair collection, I spotted it in our pharmacies. Of course, I had to test it at the counter to see if they were as pretty on the skin as they look.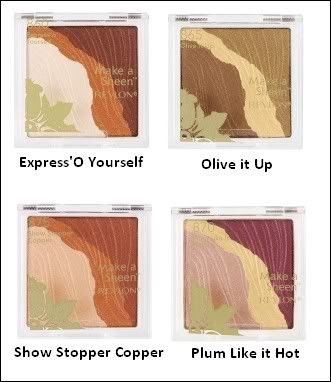 The Floral Affair palettes for the eyes are so pretty. Just look at them! Unfortunately, on the skin, they are sheer. There is hardly any pigment and what you get is sheer shimmer. Ok, so Revlon does say "Make a Sheen" on the cover and they are touted as sheer shades so one shouldn't really be complaining. But I don't know how anyone can be using only sheer shimmer on the eyes and pull it off for the day.
The packaging is really nice, coming in a clear lucite case. however, the flower pattern is quite deceptive because the flower on the left bottom is actually printed on the cover. When you open the palette, all you see are wavy patterns of colour.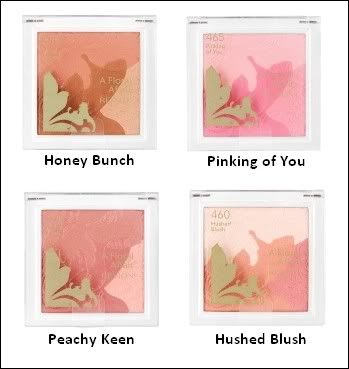 The blushes are just as pretty. Again, colour is sheer, but unlike for eyeshadows, I'm ok with sheer colours for the cheeks. You want to look like you are blushing, not like someone slapped you in the face! So, in this case, sheer can be good. Again, the flower is actually printed on the cover so although it looks like Clinique's All Over Blossom colour, it isn't beacuse Clinique's is printed on the blush.
I cannot remember the retail prices but I saw these in Guardian at Midvalley Megamall. They should be available at all Guardian stores and are, I believe, limited edition items. I'd go for the blush if I get them, not only because I like blushes but because sheer eyeshadows with little pigment really get my goat!
Happy Weekend everyone!