I was down in Singapore over the weekend when I stumbled on the brand Sana in a Sasa store. I had read about this Japanese brand before but had never seen it in person so I was quite taken in by the pretty cherry blossom packaging.
Out of curiousity, I picked up 3 items. 2 of them, a liquid foundation and a foundation brush and mixing palette set was from the Sana Maiko-Han series. This series of cosmetics was developed by Sana in collaboration with Ichimame-san a Maiko (geisha) of Kamishichi-ken Ichi Kyoto, Japan. I suppose its based on the products that the geishas actually use.
I was primarily interested in the Maiko-Han foundation brush and mixing palette set (S$29.90). The foundation brush is very short which fits nicely in the hand, and the brush is super soft but dense and firm with a wide flat brush head. I'd never used anything but fingers to apply my foundation before, and I was quite taken by this brush so I ended up getting it. The foundation (S$33.90) I got out of curiousity.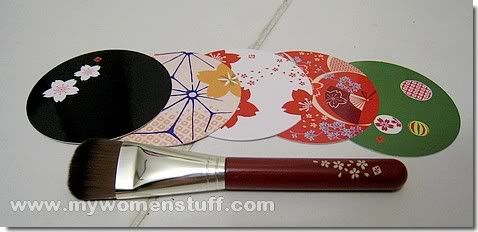 The foundation brush comes with a set of 5 gorgeous laminated cardboard mixing palettes with lovely Japanese cherry blossom designs on one side. The other side of the cardboard pieces is white. That is the palette on which you are supposed to place your makeup base or foundation, then blend or spread with the brush then apply on your face.
The other item I got from the Sana range was the Ho Jun Ki cleansing oil (S$19.90) which contains royal jelly and is supposed to have a pore tightening formula.
I've got to hand it to the Japanese. Even if the product isn't all that expensive (Sana is a drugstore brand), their packaging sure looks lush and pretty! Watch out for upcoming reviews on these in the near future.