I like my Japanese makeup, but there is one brand that never captures my imagination – Kose. Somehow, nothing in the line ever interests me. Their colors look bland and boring. We have 4 makeup lines under Kose at our local beauty counters – Beaute de Kose, Luminous, Cosme Decorte (different counter) and Visee . I don't know if Visee is carried anymore, but if it is, its a very tiny range and nothing like what I see on the Japanese website.
In fact, it looks like the Malaysian Kose site has never been updated since 2004! Just compare it with Singapore's site and you'll see why Kose doesn't excite me here in Malaysia. So, it was sight unseen that I got the Visee Jewel Crush Eyes eyeshadow palette.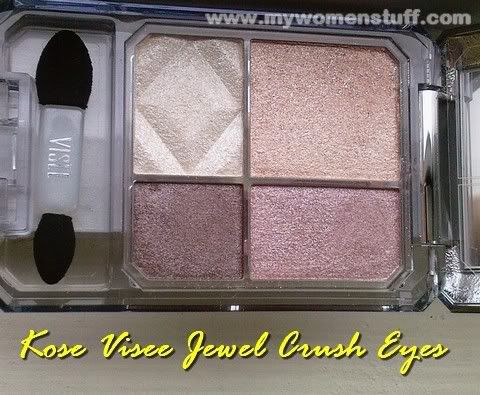 The palette I got is E-5 which online, looked like it would be a neutralish sort of colour. In person, its got noticable pink tones which I was not quite sure if I'd like. Pink on the eyes just doesn't do it for me.
The colours are (clockwise from top right) Peach, pink-lilac, dark purple and cream shimmer.
The palette itself is quite pretty. It has a shiny cover with faceted sides to simulate a jeweled case and there is a large mirror inside the cover. I like how these Japanese brand palettes always give you a nice big mirror in their palettes. It makes it easy to whip out for touch ups (if you do, that is). It comes with only 1 dual ended sponge tip applicator which I don't like to use.
Although I was not terribly impressed with the colours, I rather liked them once I applied it on my lids. This is because the colours aren't strong but tend towards the sheer. This makes it easier to wear these colours which I won't normally wear. Sheer colour isn't always bad, because it can enable you to wear colours outside your comfort zone. That is, unless you like strong pigmented colours in which case you'd probably hate this palette!
There is shimmer but nothing over the top. The cream highlighter is the most shimmeryof the lot but then, it is a highlighter after all.
However, I did not quite like this palette because of the texture. I am used to Kanebo T'estimo eyeshadows which is the category I place Visee in. I find that the Visee eyeshadows are not as smooth and are grittier to touch. Color wise, they too aren't as vibrant as T'estimo. Overall, I was disappointed.
Also, the staying power was not very good. By the end of the day, I found that I did not have much colour left on my lids. I normally don't experience much fading of eyeshadow (except with MAC believe it or not!) and I don't have oily lids. So, I'm not sure where all the colour has gone! I reckon with an eye primer it would stay all day but I don't usually use primers and don't usually have problems with fading.
This is not the first time I'm trying Visee. I have some of the Visee singles too, which were given by a friend. I'll review them another day but suffice to say that they don't see as much sunlight as the rest of my other brands. Compared to the singles though, I think the palette is a lot better and for that I'd give it a slightly higher rating that I was planning to.
I bought this palette on Adambeauty but I cannot recall the total price I paid. You can also get it on Ichibankao for US$25.50. Would I buy it again? Probably not. I probably won't buy any other Kose product too. Its just too boring a line for me.
Pros: Sheer colour helps make colours wearable, nice shimmer, cute packaging

Cons: Texture was gritty, boring, faded quickly
[rating:3/5]