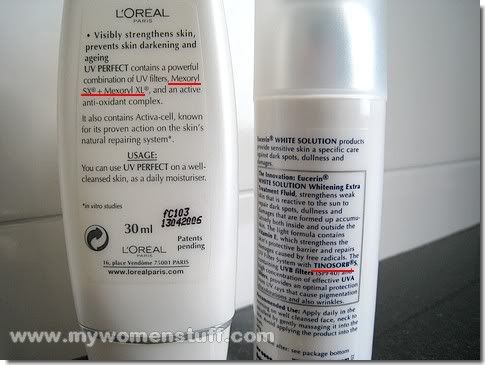 I've written time and time again about how well L'oreal UV Perfect sunscreen with Mexoryl works for me. I have conceded that it does not work well for everyone, with some people reporting breakouts but in general its worked well for me.
Mexoryl is a chemical sunscreen or sunblock patented by L'oreal, that has been used quite prevalently in Europe and Asia for a while, but was not approved by the US Food and Drug Administration (FDA) until quite recently. What's good about Mexoryl is that it absorbs both UVA and UVB rays and is photostable which means it doesn't break down as easily under the sun and thus protects the skin against UVA rays (the ones that cause skin aging) better.
Recently, I was at Guardian checking out the Eucerin counter when I saw that Eucerin has introduced a new product – Eucerin White Solution with SPF40. This is a day moisturiser that comes with very high SPF and I was intrigued. The sun protection ingredient is provided by Tinosorb S.
Tinosorb S is another chemical sunscreen patented by CIBA. I was new to Tinosorb so I looked up some information online about it. Apparently, Tinosorb S is:-
Photostable
was specifically designed to meet the needs of the cosmetic industry. Besides the excellent performance as a photostable broad-spectrum UV filter, it is compatible with organic and inorganic filters, meets the high safety requirements and is oil soluble for high water resistance.
is a daily broad-spectrum filter. It provides excellent UV-A protection to serve as a basis for UV protective day creams and shows synergistic effects with UV-B filters for high-SPF sunscreens.
I was quite taken in by it because I'm no stranger to chemical sunscreens anyway having used Mexoryl all this while.
For now, Tinosorb S is only found in sunscreens in Europe and Asia as the US FDA has not approved it for use in the USA at this time. However, whatever information I sourced online seem to indicate that Tinosorb S is an effective broad spectrum sunscreen and chemically, is very effective in filtering both UVA and UVB rays. It seems to be placed on par with that of Mexoryl in its effectiveness and photostability. 2 sites I had useful information from were the forums at Skincarerx and Essential Day Spa.
I'm no sunscreen expert, but I did buy the Eucerin White Solution with SPF40 and will be testing it out for a month to see how it works for me. I'm intrigued to see if a moisturiser with high SPF is by itself sufficient for everyday use. Previously I'd been using a moisturiser without SPF or with minimal SPF and then my L'oreal UV Perfect sunscreen over it. I'm not so sure if I should now.
This is in part due to the fact that the Eucerin day moisturiser already contains SPF40 and in part due to the fact that the 2 chemical sunscreens in the 2 products I have are different – Tinosorb S and Mexoryl. I'm not sure if they play well together.
I'll be back with my review on Eucerin White Solution day moisturiser in a month or so!