I was traveling all day yesterday the length and breadth of the country… ok its a slight exaggeration but I was on the road for most of the day under the hot sun (thank goodness I had my sunscreen applied liberally!). When I got home in the evening, I was dog tired. After my shower, my eyes fell on this Garnier Skin Naturals Light Whitening Infusion Tissue Mask I'd had on my dresser for a while.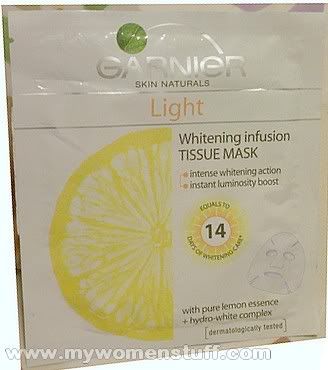 I decided on a whim to try it to see what it was like. So, after cleansing my face, I opened up the foil pack and spread the mask on my face. Unfortunately, I cannot find any information about the Garnier Skin Naturals Light range online except for this old article. From what I can tell by an online search, the Garnier Light range is targeted at the Asian market where all whitening ranges are targeted.
First of, the mask. This is your typical one time use essence infused tissue mask with cut outs for the eyes nost and mouth. Unlike many other pharmacy based tissue masks in the market I found the Garnier Light Whitening mask absolutely soaked with the essence. The fabric/tissue used for making the mask is thicker than normal too which was nice as it made it feel substantial and was easier to manipulate. I don't like those thin folder paper things that are hard to open up and spread out.
According to the back of the packet, this is what Garnier says:-
Garnier Light introduces the upgraded Whitening Infusion Tissue Mask. Now, containing as much product as 14 days of whitening care, its intense whitening action helps instantly boost skin's luminosity, makes dark spots less visible, skin is fairer and more transparent. The soft tissue mask is improved with moderate thickness and a better cutting design for good penetration. It contains:-

Pure lemon essence + vitamin C known to lift off dull skin, lighten skin tone and boost skin's radiance.
Hydro-white complex sooths and replenishes skin.
I liked the feel of the mask. I find that the shape is cut smaller so it sits very well on my face and the eye, nose and mouth cut outs go exactly where they are supposed to! Very nice.
There is however, a very strong citrus and bergamot scent. It is very sweet and can be a bit cloying since its so near your nose and on your face. I did not mind it too much but tired of it after a while. I'd have preferred if Garnier had kept the fragrance lighter to make it more relaxing rather than cloying.
Although the mask was a bit gooey to touch, once spread on the face, it doesn't drip! I detest tissue masks that drip because I like having it on my face then reading in bed before I sleep. If the mask drips, my pillow gets all wet. Hate! The Garnier Light Whitening mask stayed where it was supposed to, and did its job. When it says it contains 14 days of essence, it does not mean you are to use it for 14 days! What it means is that the product is infused with 14 days worth of whitening essence. That is a lot of essence!
You are recommended to leave it on for 10-15 minutes and so I did. After 15 minutes, I found that the mask was still wet and full of moisture, so I left it for another 5 minutes. And still, it was moist! So, I folded it up and used it on my neck and chest area. Even after all that, the Garnier Whitening mask was still moist! That's pretty impressive. Some masks I've used dry up after the requisite 15 minutes. I reckon if you stick the mask back into the foil pack and put it in the fridge, it might work for one more use too.
When I removed the mask, I was quite pleasantly surprised to find that although the mask is gooey, it did not leave my face sticky. In fact, my face felt cool and plump and moist. Very nice!
Unfortunately, I did not find any visible whitening properties though the skin looked a little brighter. I don't really subscribe to the instant whitening thing anyway. I don't believe anything can instantly whiten the skin and if it can, I'd steer clear of it because its so potent!
When using foil pack tissue masks, I like to chill it in the fridge before using. It cools down the skin and leaves it feeling so much nicer. Garnier Light Whitening Infusion Tissue Mask retails at all pharmacies and I believe its under RM10 but I'll update the price later once I know for sure. If you are allergic or have sensitive skin, I'm not sure if this will work for you due to the citrus and fragrance but I did not experience any averse reactions to this mask after just 1 use.
All in all, I'd say this mask is good for a boost at the end of a long tiring day but if you are looking for instant actual whitening and lightening of dark spots you may be disappointed. I'm not sure how it will be after a few more times though, because I only have the one to try! 🙂
Pros: Cheap, Cooling, Good shape, Left skin feeling moist and radiant, a lot of product

Cons: Scent is too strong, no visible whitening as claimed
[rating:4/5]