Shiseido has a few different lines under its belt but the one that is sold internationally is The Makeup. This line comes in a brownish purple packaging and is found all over the world.
My review is on the Shiseido The Makeup silky eyeshadow quad in Flora and Fauna.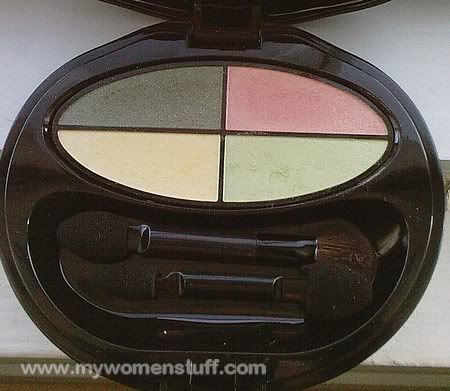 I love the colours in this quad. They are bright and have some really nice green shades which is my favourite colour for eyes.
The quad comes in an oval shaped case with brush and sponge end applicators. I like how Japanese brands always include brush end applicators and their applicators really work at a pinch! I find the case a little bulky. It could be slimmed down further I think. There is a large mirror in the top cover which makes it easy to use if you are in a hurry.
The colours are a deep green, golden pink, light yellow green and yellow. The colours contain little shimmer and go on with an iridescent tone so it doesn't look flat. I have a problem using the pink in the palette though. I'm not good with pink on the eye area. However, I reckon it can be used as a blush if you can get your blush brush head in there. The quarters are actually quite small.
The texture of the eyeshadow is smooth. Very smooth and very fine. It goes on like a dream and on my skin, it looks pretty much like what you see in the picture but a little lighter. On darker skin I'm not sure how much will show up.
But after all the love I've given this, there's a snag. I'm allergic to Shiseido eyeshadows!!
I've tried Shiseido eyeshadows in The Makeup, PN, Maquillage and Majolica Majorca. Only Maquillage did not pose a problem with my eyes. I don't even have very sensitive eyes at worst of times.
When I say allergic, I mean that my eyes feel uncomfortable using these eyeshadows. My lids feel heavy and my eyes feel tired all the time until I remove the eyeshadows and then I feel fine. I'm not sure why Shiseido eyeshadows make me feel this way, but they do and its a pity because they are really good stuff. However, I'm the only person I know who has this reaction to Shiseido eyeshadows so don't be scared off!
Shiseido The Makeup silky eyeshadow quads retail at RM114 which I think is a fair price because you get 4 very useable colours. Too bad I can't use them!
Pros: Silky smooth texture, Nice colours

Cons: I'm allergic
[rating:2.5/5] because I'm allergic