To be perfectly honest, I used to think of Revlon as a boring adult brand. That was when I was young and foolish of course 😛 I used to think of Maybelline as the cute younger sister and Revlon as the older one – it was more serious, packaging was more severe with all that black and the models used were just older. Perhaps that's Revlon's target market?
Anyway, I got older and suddenly Revlon was for me! I've only really tried their lip products. Their Super Lustrous Lipsticks and Lipglosses get the thumbs up from me every single time. The age-defying 2 way foundation was the first time I'd tried Revlon's face base products and its pretty awesome too.
My review this time is for the Revlon Renewist Lip Color – Revlon's newest lipstick in their stable. Do keep reading because there's a GIVEAWAY for this one too! Thanks of course to the good folks at Revlon 🙂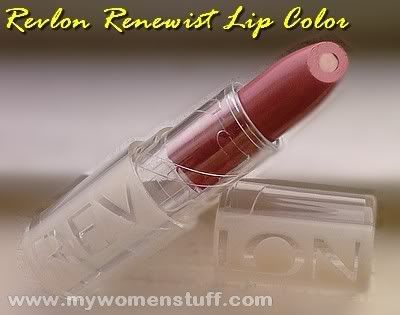 The Revlon Renewist Lip Color lipstick I have is in 090 – Heart Warming. The colour is a warm rose shade in the stick. I liked the way the colour looked in the case. It was a colour I knew I could use.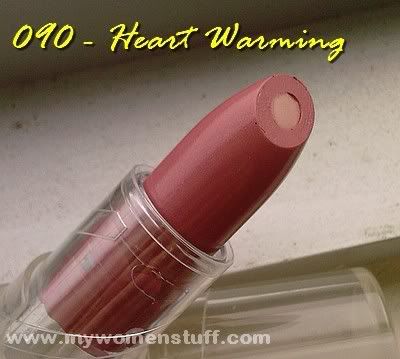 However, when applied on me it ended up looking pink! That was certainly not the result I expected because from experience pink lipstick looks ghastly on me. I've had pinks make me look like the walking dead to pinks that make me look like a barbie doll outcast.
Heart Warming falls in neither category. It is, in fact, a very wearable pink for me which is fortunate else I don't know what I'd have done with this lippie!
The lipstick has Revlon's trademarked ProCollagen Moisture Core which is supposed to boost moisture by up to 80% thereby keeping your lips moist. Over time, the collagen is supposed to reduce the appearance of fine lines and gently enhance lip fullness over time.
Personally, I have no quarrel with the fullness of my lips. I'm not so into the Angelina Jolie style full lips and I don't quite know how applying something with collagen in it can make your lips fuller. They might feel and look fuller which might also be the effect Revlon is going for.
That said however, I can vouch for the moisture in this lipstick. This Revlon Renewist lipstick glides on the lips smoothly and evenly with very pigmented colour. It certainly isn't sheer if you prefer a sheer lip. I had been having some dry lip problems but found that when I used this lipstick, the flakies were not enhanced unlike other lipsticks, and it also did not further dry out my lips. I felt like it was a very pigmented lip balm! Very nice!
Unlike lip balm that tends to slip and slide around a bit, the colour stayed on my lips for most of the morning, and only required a touch up after lunch (but that is because I tend to wipe away my lipstick when wiping my mouth) and then it lasted till I got home in the evening. So, not super long lasting but long lasting enough to get you through the day.
The packaging is very modern and nice in its transparent plastic case. Its very Shu Uemura, if you have seen Shu Uemura's lipsticks – its the same style. There is a faint scent but nothing that truly bugs me. If I have one gripe, its that the ProCollagen Moisture Core gets messed up once you apply the lipstick due to the colour from the sides mixing with the middle. It makes it look messy.
The Revlon Renewist Lip Color lipstick retails for about RM37.90 at all Revlon counters. There are about 24 colours to choose from so take your pick!
Pros: Does not dry out lips, Pigmented colour, nice packaging

Cons: Colour did not apply true to the colour in tube, middle bit gets messy
[rating:4/5]
GIVEAWAY
I'm only now sending out the Revlon foundation to the previous winner of the last giveaway due to my busy schedule, but here's another giveaway for you!
Thanks to the folks at Revlon, I have 1 Revlon Renewist Lip Colour lipstick and 1 Colorstay lip pencil to give away to a lucky reader. The colour of the lipstick is Naturally Revealing. You can read a review by Beetrice on this colour at Beetrice's Reviews and if its a colour you think you'd like or that might suit you, send me an email to mwsgiveaways (at) gmail.com with the subject title "Revlon Lipstick".
I think the last one ran a little too long so this time I'll cut the contest time shorter. The closing date for entries is 12 noon on Thursday 22 May 2008 and I will randomly pick a winner then, so don't wait too long to enter!
Here are some quick terms:-
Please use a valid email address. I will contact you at the email address you use and if I don't get a response in 2 days I'll give it to someone else.
Please only submit one entry. Using multiple emails is cheating so please play fair to keep this fun.
Entries submitted under the comments here will be deleted. Please use the email address provided above.
All winners of the past 3 contests and giveaways are not eligible to enter to give others a chance.
Good luck! 🙂
Stay beautiful,