I got a pleasant surprise one day last week when I was contacted by Guerlain to review their newest mascara – Le 2 de Guerlain mascara. Other than my favourite Anna Sui Full DX mascara, and Lancome Flextencils (discontinued) I'd never tried other high end (read: Expensive) mascaras.
Guerlain's new Le 2 de Guerlain Mascara is so named because it is one tube of mascara with 2 brushes. I can't direct you to the website on the Le 2 Mascara due to flash (but its worth watching) so I'll direct you to Sephora instead where you can read the official blurb.
What struck me most when I first got it was how long it was! It is about a quarter longer than a normal mascara tube, which makes it very long indeed. It can't fit in my container where I stick all my mascaras so I have to keep it separately. It almost feels like a magic wand when you hold it. I can see Hermoine Granger waving this around 😉 But does it measure up to a magic wand on your lashes?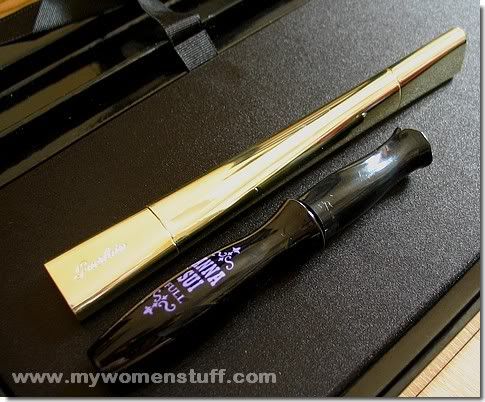 The Le 2 Mascara tube is a very luxurious shiny gold metal and is heavy. I liked the luxurious look but I got a bit irritated at having to wipe it down every time I use it or touch it, because the shiny metal picks up finger prints better than a CSI agent!
The Guerlain logo is embossed on one end, with the colour of the mascara on the other end. Mine was in Noir – Black which is perfect for me. There are another 3 colours – brown, blue and purple. The Guerlain name is embossed on one end. You can see that there are 2 ends which can be screwed open. Those are the 2 brushes Guerlain has included.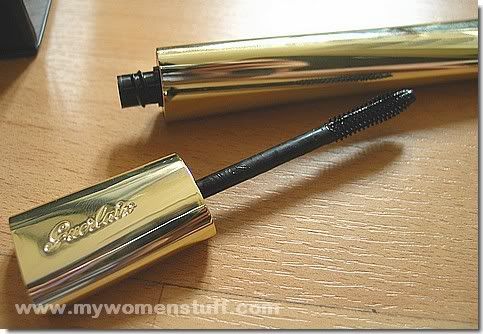 First is Brush 1 which is the main brush you'd use to apply your mascara. Despite the length of the mascara, this brush is kept deliberately short to make it easier to hold and manipulate. I found the brush a nice tight fit in the tube and there was a flexible bendy feel to it when I pulled it out. Apparently, the brush and stick are moulded of 1 flexible material. Guerlain did not use bristles as is traditional but I reckon this is a type of silicon material. It is not stiff and is bendable to a degree. According to the blurb the brush is:-
Molded in a single piece of flexible material, the brush follows the lashes' natural movement, offering a multidimensional effect.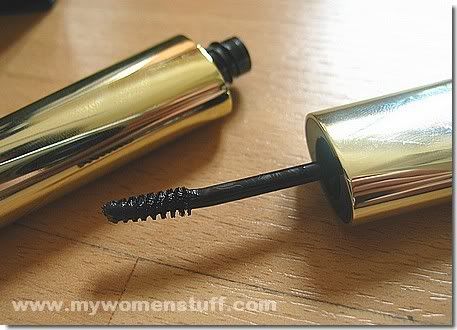 Secondly, you have the little brush. This brush is slightly angled and is really small to enable you to reach into all the corners so lash is left uncoated with mascara. This is supposed to be good for the lower lashes which many of us tend to miss out on applying mascara because it tends to mess up our eye makeup when it smudges. By including this little brush, Guerlain is making it easier for us to reach all the little hard to reach places.
As for the formula, Guerlain says:-
Instead of waxes, which can be responsible for clumping and sticking, Le 2 uses two high-tech polymers. The first, which is fluid yet holds fast, creates volume and length with zero clumping. The second, often used in surgical adhesives, sets the curve and guarantees exceptional hold. The combined result is a texture that's smooth, silky, and elastic. Application is easy, the result spectacular, and the look is incredibly natural looking: lashes take on a new dimension yet remain supple and vibrant. Another two-polymer advantage: by revealing the full strength and freshness of color, you get beautiful intensity in all the different mascara shades.
But here's the deal – How does it measure up to the Paris B mascara test? I have stick straight Asian lashes. I usually curl my lashes before I apply mascara and I need a mascara that holds a curl, and adds volume without weighing down my lashes. Length is not too big a deal for me because I realised that my lashes aren't as short as I used to think they were.
Texture
The mascara is liquid. That sounds a little silly saying it but what I mean is that when I pull out the tube, I can see the mascara glistening on the brush so there is a "wet" feel, rather like the Dejavu Fiberwig mascara (although I might sound crazy comparing Guerlain to that!). This makes applying the mascara easy because the liquid grabs onto the lashes quite easily.
I find that applying it in the traditional zig-zag manner clumps the lashes a little and makes it look spidery. So, I apply this from root to tip in an upwards motion to coat the lashes. Because it is so liquid, it grabs on to the lashes easily but it does take a little while to dry.
I do wish Guerlain did not add fragrance to the mascara though. Whilst it doesn't bug me much (Anna Sui Full DX is also fragranced) other people might not like it as much and it might irritate their eyes. The scent lasts a little longer than the Anna Sui one does.
The Brushes
The Brush 1 is a nice short length. It allows me to anchor my hand on my cheek to have a steadier application of mascara. The gold metal handle adds a good counterbalance and grip. The bristles too grab onto my lashes quite easily, coating each lash with the mascara.
The mini brush I found useful for touching up at the roots and to add extra coats. I actually liked the mini brush better than the Brush 1 because it is small and gets all my lashes beautifully. My gripe has always been mascara brush heads that are too large so I give Guerlain the thumbs up for this one.
Length or Volume?
Unfortunately for me, Guerlain Le 2 Mascara is more length than volume on me.
It thickens my thin sparse lashes enough for them to be seen but not so that it is dramatic. I guess I'm used to the Anna Sui Full DX mascara that gives me visibly thick lashes.
Curling?
I actually found that the Guerlain Le 2 Mascara was heavy on my lashes when I first applied them. I had curled my lashes but after applying the Le 2 Mascara all the curl had gone out of my lashes and they were back to being straight (but long). While wet, I also found the lashes felt heavy.
However, I revised my opinion once it had dried. Once the mascara dried, I did not have that heavy feel to the lashes anymore so that was nice. My straight lashes after applying the mascara bugged me for 2 days until I remembered the trick I learnt after using Imju Dejavu Fiberwig. I got hold of my curler and curled my mascaraed lashes after they were dry and voila! They were curled once more! Once it dries, the lashes stayed curled beautifully throughout the day, so I'd say it holds a curl, but it needs a little help.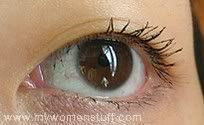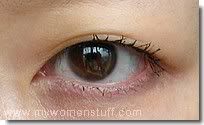 These are how my lashes looked after using the Guerlain Le 2 Mascara. You can now see the lashes after I curled it a second time. They aren't lush and full (a little spidery) but they are nice and dark.
I tried using the mascara on the lower lashes too but I'm a clumsy oaf so I got it on my skin which resulted in me having to clean up and thus black smearing under the eye. I don't have much lashes on the lower lid anyway so I don't usually bother. However, the mini brush does what it claims. I can grab all those teeny tiny lashes that you usually miss, usually towards the inner part of the eye.
The Guerlain Le 2 Mascara isn't touted as water proof but it is supposed to be water resistent. I did not experience any smearing or running in the early part of the day (which was good as I was meeting a friend for lunch and did not intend to scare her!) but later in the afternoon, after driving around in the hot sun, I did find some smearing. Nothing that could not be easily wiped away without too much trouble; and it was easily removed with cleansing oil at night.
Price
A tube of Le 2 de Guerlain Mascara retails for RM110 at all Guerlain counters. The tube can last you up to 6 months after opening (this is Guerlain's official recommendation). Considering that an Anna Sui DX is the same volume (0.28oz) for RM95 I'd say the Guerlain Le 2 Mascara at another RM15 extra is not super expensive amongst the high end brands. Of course, these brands are in a league of their own so I'm discounting drugstore brands.The Le 2 de Guerlain Mascara is expensive but personally, I've never had success with cheaper drugstore mascaras that we have here in Malaysia. My best successes were with Lancome Flextencils (RM90) and Anna Sui Full DX (RM95) anyway so those are my basis for comparison.
My Verdict
This is a nice luxurious mascara but for me, patience is key when using this one. It takes a tad longer to dry than other mascaras but it gives a lovely dark tint to the lashes. It lengthens but does not add much volume and I do have to curl my lashes again after it has dried to get them to really stand out. It is expensive, so maybe get it for one of those days when you feel like spluging or just feel like owning something expensive and luxurious; or maybe when you feel like having a little "magic" on your vanity table. 🙂
Pros: Holds a curl, Nice dark colour, Lengthens, Mini brush is good for short lashes, beautiful elegant packaging

Cons: Expensive, fragranced, weighs lashes down when wet, needs double curling, smears a little
[rating:4/5]