I haven't had official word of NARS coming to Malaysia yet, so we are still waiting. The most popular blush colour form NARS has to be Orgasm. It is truly a cult classic. Many people I know love it but I also know of many who don't like it because they find it too shimmery or too pink.
NARS Orgasm is in fact a shimmery pink-peach shade. I say pink-peach because I think it applies on me looking more pink than peach. The peach tones are just enough to temper it so it doesn't look too pink going on. The shade is rather medium-light so if you have fair-medium skin, I'd say it'll show up. However, if you are tanned or have darker skintone, all you might get is shimmer. That said, I have never noticed Orgasm going on highly shimmery. For me, its just nice so I suppose its to do with your own level of comfort.
If you are on a budget or have no access to NARS Orgasm, which brand or blush colour is a NARS Orgasm dupe or lookalike? Here are a few I have compiled from my own collection.
Anti-clockwise from bottom left:-
Nars Orgasm, Majolica Majorca RD255 , L'oreal Front Page Peach Blush Delice, Shu Uemura P Red 13, Guerlain Abricot Souffle D'or, Cargo The Big Easy, Milani Luminous
Unfortunately, many of those brands I found dupes in are also unavailable in Malaysia. The only 2 I know that are easily available are Guerlain Abricot Souffle D'or and Shu Uemura P Red 13. I'm not even sure if Shu Uemura P Red 13 is part of the regular line of glow on blushes. Mine came in a pre-made palette which was a limited edition item a couple of years back.
Anyway, to aid you along, I took some swatches of Nars Orgasm and its dupes on my arm in natural sunlight:-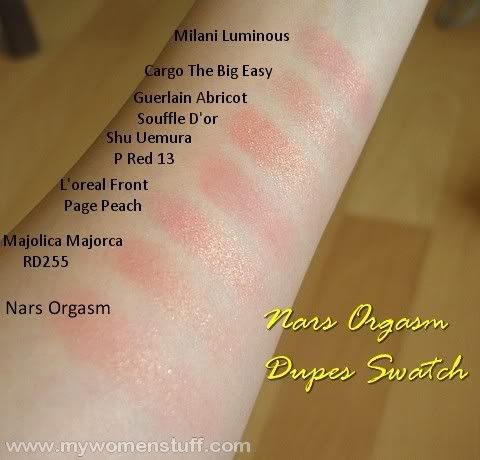 You can see that some colours are closer to Orgasm while some aren't. However, they are all close enough in shade and tone.
Out of all, I find that L'oreal Front Page Peach is slightly too pink to qualify and the Shu Uemura P Red 13 is more matte than the rest. Guerlain Abricot Souffle D'or is a little too peach. Bear in mind though that this is a side by side test. On your cheeks, no one can tell you aren't wearing Nars Orgasm! 🙂
I hope this helps anyone who's looking for a Nars Orgasm dupe! Happy experimenting!