Aha! Its finally here – my Lavshuca Summer Gradually Compact in 01 – Shiny Sand Beach.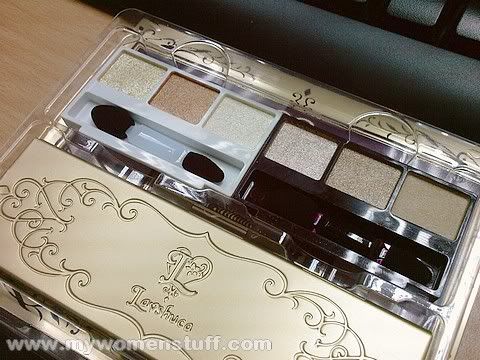 Flourescent light washes everything out so I apologize for the poor quality of the picture. Essentially, its a 6 colour eyeshadow palette in gold and sand tones. The palettes on top are to be placed into the case below. Its a lot smaller than I expected! I got mine online at Ichibankao.com for US$27.90 as Lavshuca isn't sold outside of Japan at this time.
Here are some first thoughts:-
The palette case is a thin but sturdy metal. Its rather less substantial than the Stila metal palettes but should do the trick.
The eyeshadow pans are really small.
The colours in the white palette look metallic and brighter than what you see in the picture. The ones in the black palette are more shimmery for 2 and the one on the far right looks the most matte of the lot.
There is some sticky glue at the back of the palettes for you to stick them into the metal pan. I got the sticky stuff all over my fingers because I did not know this.
I haven't tested the colour but despite my concern, I don't think this one will be too warm for me as in person, they look rather cool or neutral. I'll test it and update in a week or so, so stay tuned for my review on the Lavshuca summer eyeshadow palette!