So you had a bad night. You wake up in the morning and see dark rings under your bleary eyes, and blotchy skin. What do you do?
Well, here's where makeup can help you.
The key here is to keep things natural. From personal experience, I've found that on days when I wake up looking and feeling terrible, light natural makeup is best.
The key items you'll need are:-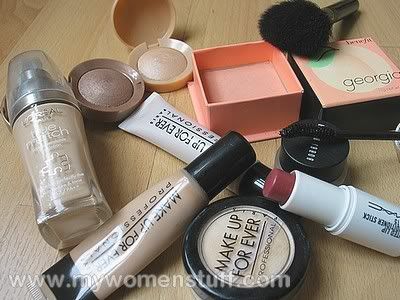 Concealer
Foundation
Highlighter
A light or nude colored eyeshadow
Eyeliner
Mascara
Light peach or pink blush
And here's how I put it all together.

Step #1
Prepare your skin. Splash cold water on your face which will wake you up and help your blood circulate. Then, tone, moisturise and apply sunscreen as normal.
Step #2
Apply concealer under the eye where its dark by dabbing gently on the skin. Spread out some of the concealer along the nose and towards your upper lid to even out the colour of the skin and to hide dark circles. I use Make Up For Ever Lift Concealer (for now) for under the eyes and Full Cover for discolorations or marks and blemishes.
Step #3
Apply foundation – either powder or liquid as you please – to even out your skin tone. Set with a light dusting of loose powder. I use either L'oreal True Match or Revue liquid foundation and Revue or Lumiere Mineral Foundation and set with T. LeClerc Banane loose powder or Make Up For Ever Super Matte Loose Powder.
Step #4
Use a nude or natural eye colour with a little shimmer and do neutral eye makeup. You can use just one colour all over your lid. I've found that a light peach shade or beige helps to wake up the eye area if you are fair skinned. Line with eyeliner. Curl your lashes and apply mascara to create a wide-eyed look. My mascara of choice is Anna Sui Super Mascara DX Full. Edit (thanks for the reminder, girls!): Do your brows.
Step #5
Apply a light peach or pink shade on your cheeks as blush. For my skin, I find that peach is excellent because it brightens my face thereby making me look more awake than I feel. My favourite light peach blushes are Benefit Georgia and Nars Amour. If I use pink, I either use Benefit Dandelion or Shu Uemura M33E or Milani Pink Craze blush.
Step #6 (Optional)
If you wish, apply a light dusting of highlighter powder all over your face. It adds radiance and diffuses the blotchiness of tired skin. My favourite highlighter is Guerlain Meteorites. The multicoloured balls combine to help give the impression of radiant even toned skin.
Step #7
Use a light glossy lipstick or lip gloss or tinted lip balm. When I say light, I mean a colour that matches your lips. Using light colours guarantee that your whole face is kept in equilibrium so not one feature is too prominent. What you want is to project glowing skin so what people see is a bright eyed pretty girl, not one who barely just made it out of bed. 😉 Also, a glossy or shimmery lip doesn't look so "flat" which can be aging.
That's it, you're good to go!
Looks like a lot of work isn't it? But I get it down to about 10 minutes pat and you can too with practice. Natural makeup is probably one of the hardest to do, but done correctly, it enhances your looks rather than mask it; and it helps you cheat on those days when all you want to do is hide under a paper bag 😉
What are your beauty cheats for a bad day?