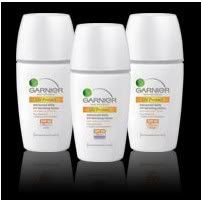 My favourite sunscreen for the face is the
L'oreal UV Perfect SPF50
– Anti dullness. It doesn't seem to suit everyone though. Many people complain about the fact it makes their skin oily and some others have complained of breakouts.
I passed by the Garnier counter at Watson's a few days ago and I spotted something new – the Garnier UV Protect SPF50 Sunscreen with PA+++. I scanned the back of the box and saw that it contained Mexoryl, which is a chemical block for UVA and UVB sun rays. I couldn't find any information on this sunscreen online at all nor have I seen anything in print in the news. Perhaps I'm looking in the wrong places, but the only Garnier sunscreens I can find online are by Ambre Solaire which we don't find here. This was manufactured by Garnier in Indonesia, so I'm wondering if this Garnier UV Protect sunscreen is only found in Asia. Thus far, I think so, just like the L'oreal UV Perfect is only found in Asia.
Garnier is using Zhang Ziyi for their model, so I think the case is even stronger for it being Asia only for now. See, even the Garnier UV Protect ad is similar to the L'oreal UV Perfect ad for those who know it.
Anyway, since the bottle looks uncannily like the L'oreal UV Perfect (and the name is uncannily similar too) I tested some of it on my hand to see how it felt.
First off, I found the texture of the Garnier UV Protect nice and creamy. However, unlike the L'oreal UV Perfect, the Garnier UV Protect feels less oily and dries faster. Whilst this might work for those who have complained of the UV Perfect being oily previously, I did not quite like it. I find that sunscreens that dry quickly tend to leave my skin feeling dry and papery. This is true of Asian sunscreen brands like Sunplay, Sunkiller or any brand that comes out liquid and requires you to shake it before hand. Garnier doesn't, but the after effect felt the same.
I love the L'oreal UV Perfect Anti-Dullness sunscreen as anyone who reads my review will know. So, I tested the Garnier UV Protect in a similar anti-dullness formula. Like the UV Perfect, this one has a purplish tint to the sunscreen. However, I felt that it made my skin look white. Too white for comfort. The one in the regular formula is a white cream that also has a strong white cast. The third has a tint so you can use it to even out skin tone like a foundation.
Garnier is owned by L'oreal so I reckon there might be some technology transfer here in the use of Meroxyl and the packaging. Price wise, the Garnier UV Protect is retailing for about RM26.90 while the L'oreal UV Perfect retails for over RM30. That said, L'oreal goes on sale often here, up to 15% if you are lucky, so I never buy my L'oreal UV perfect sunscreen at any price over RM30, thereby rendering it almost the same price as the Garnier one.
Would I switch to Garnier UV Protect SPF50? I'm not sure. I wasn't too enamoured with the dryish texture on my hand and with the white cast it left on my skin. Then again, maybe I'd have itchy fingers and test it out anyway once I finish my present UV Perfect. Its hard to say with me. 🙂
Has anyone tried the Garnier UV Protect sunscreen and if you have, how do you like it?