There is only so much makeup shopping a girl can do before the wardrobe needs updating too! I'm quite lucky to work in an environment where I can omit power suits and blazers in our hot Malaysian weather. Instead, I can stroll into my office looking as pulled together or as casual as I like – lucky eh? 😉
One place I've frequented time and time again for clothes is a boutique in Bangsar known as People's… Egg. I have no idea why it is called that. I reckon its named after the 2 lines of clothes available in the store – People's and Egg I spoke to the designer/owner, Angus, once and he told me that they only sell a few pieces of each design as the rest are exported. So, I'd say it is pretty unique stuff you can find there.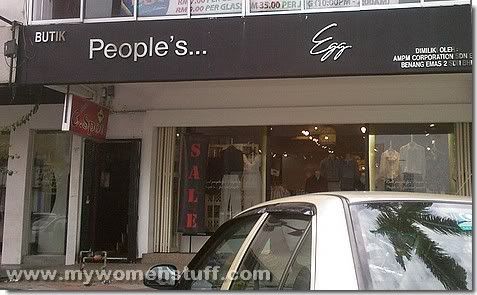 People's Egg is located in the Telawi area of Bangsar, on the same row as McDonalds and is next to the other fashion place, Blook. The unique thing about People's… Egg is that they sell both men and women's fashion. The men's stuff tend towards the trendy so I'd say they are for the young and young at heart. The women's stuff are more varied.
The store looks rather more "upmarket" than the other fashion boutiques in Bangsar and it is located on the ground floor. I find that their clothes are more wearable in an office environment although they do have casual stuff. Some of the trendier items do have me raising an eyebrow but in general, its always possible to find something wearable in there.
The clothes are well cut and the staff are very helpful without being intrusive. If you are lucky and Angus is there, you practically have a personal shopper/stylist because he has a knack of picking out pieces of clothes that suit you to a T. Even down to the size. Time and time again, I've found myself trying on something I did not think I'd wear only to end up walking out of the store with it! He's also got an eye for the various ways to wear an item of clothing, sometimes with accessories or just a little twist that makes all the difference.
I have found that they do pants (both for men and ladies) very well, in particular. The fabric falls well and the pants are well cut and fit well where they should, without pulling. Anyone who's had problems buying pants that don't fit well will understand. The People's line is cut smaller so size up from your usual size, whilst Egg is cut larger so you can take your usual size or even a size smaller. Not all sizes are displayed so don't be dismayed if you can't find something in your size. Chances are, they have it stored back in their storeroom and will pull it out for you if you want to try it on.
Prices are reasonable in my mind. They range from about RM69 for a top to about RM169 for a pair of pants and go up to RM300 for a satin dress. There is also usually a value buy section at the rear of the store where you can get value buys or some sale products. I've found an endless supply of gems back there! If you want something to accessorize your outfit, they have accessories too – belts, clutches, bags etc.
I think the quality of the clothes are ok and commensurate with the prices. You can't expect them to last forever but neither do they fall apart after 1 wash. I find that the regular priced line seems to be made of better quality cloth while the value line is less so, unless you get those that are discounted from previous seasons.
A good time to visit will be when they are having their sales. I always end up spending a lot there during sale times because everything becomes even more affordable. So, the next time you are in Bangsar, pop by People's … Egg boutique and take a look at what's on offer. You might just walk out with a paper bag of goodies! 😉