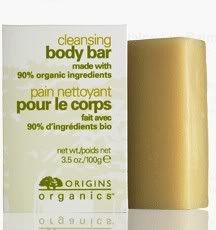 I saw a fleeting article in the newspaper about Origins Organics range being brought into Malaysia. It reminded me that I was sent the cleansing body bar a while back and it slipped my mind to review it!
The Organics range by Origins is made of organic ingredients and according to the Origins website this is what the USDA says about organic ingredients:-
According to the USDA, an organic ingredient is produced by farmers who emphasize the use of renewable resources and the conservation of soil and water to enhance environmental quality for future generations.

rganic ingredients are produced without using most conventional pesticides, fertilizers made with synthetic ingredients or sewage sludge, bio-engineeringing or ionizing radiation. Before a product can be labeled "organic", a Government-approved certifier inspects the farm where the food is grown to make sure that the farmer is following all the rules necessary to meet USDA standards.
You can read more about it on the Origins Organics website. I can't link you directly because its a flash site, but if you go to the main site, you can click around for more information about organic materials and what is organic certification.
Anyway, I have the Origins Organics cleansing bar, which is essentially a bar of soap. It is a pale yellow colur and has a rough feel to it unlike the usual processed soaps with the waxy smooth feel. I really like the smell. There is a strong herb-essential oil smell to it that doesn't linger on the skin and it really perfumes the bathroom. This is because it contains Organic Clove, Rose, Lavender, Patchouli and Red Thyme Essential Oils.
I find that this soap bar isn't drying as soap bars usually are but cleans nicely. Point to note is that it doesn't leave the skin feeling moisturized either. It just doesn't make it feel tight and dry. Some ingredients that can be found in this cleansing body bar are:-
Organic Coconut Oil: An effective moisturizer, it helps rehydrate skin. In addition, Coconut oil makes an excellent massage oil as well.

Organic Olive Oil: Used for centuries to soothe, smooth, refresh and renew worn-out skin.

Organic Palm Oil: Softens and conditions skin, renews and helps eliminate dryness. Often used in combination with Coconut and Olive oils.
One other thing I noticed about this bar of soap is that it lasts. It doesn't melt away in the shower and one bar has lasted me more than 2 months! Its hell for someone who likes to change her shower stuff often, but it makes it worth the money you spend on it.
Honestly, for someone who prefers to use shower gels, I really like this soap. It retails for US$15 for a 100g bar. That means it'll probably cost about RM50? Ouch! Expensive!
[rating:4.5/5]