I had my first experience with Make Up for Ever (MUFE) as a brand quite a few years ago. I bought my first high end blush from there, liked it, used it up and then promptly forgot about the brand because it disappeared. Strange but true.
Then I met Jojoba for whom Make Up For Ever can do (almost) no wrong, and the Make Up For Ever brand once again swam into my world. On my birthday last year, she sent me a whole bunch of stuff, which included 2 Make Up For Ever eyeshadows.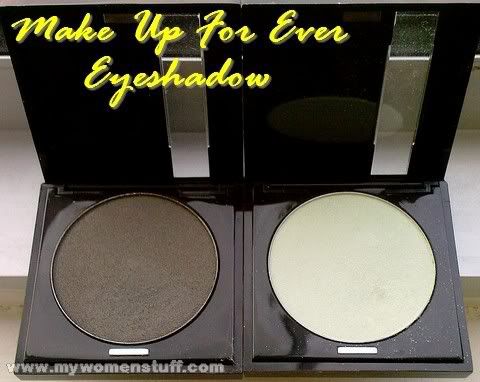 Make Up For Ever eyeshadows come in single pans in a slim square plastic case. It is a magnetic case because the metal pans can be easily popped out by poking through a hole in the back and placing it into a palette. The colours can be viewed through a clear plastic slit in the cover and it closes with a magnetic clasp. All very easy and minimalistic.
The 2 colours I have are :-
No. 84 (Iridescent bronze) – Despite the name, this is a dark khaki green on the left of the picture. As the name implies it is iridescent rather than being shimmery. Whatever shimmer there is is very fine milled so you don't get the glitter effect. The colour is sufficiently dark and makes a good base for a smokey eye or for contouring and lining.
No. 155 (Pearly light green Iridescent) – This one looks very light, almost white in the pan, but applies an iridescent light green. It looks awesome over black or dark eyeshadow as it takes on a darker iridescent green shade.
I find the eyeshadows firm to the touch. Not soft, not hard. I use my fingers for eyeshadow application and I don't notice much of a hardening of the surface of the shadow. This is great in my book, because I hate how shadows with a crusted top look. I do notice that the shadows at the MUFE counter don't have a crusted over surface as well.
From my experience with these 2 MUFE eyeshadows and testing the products at the counter, I find that Make Up For Ever shadows are very pigmented. Colours apply true to their colour in the pan and last a long time on the lids.
Like MAC, the range of eyeshadow colours are mind boggling. This is because Make Up For Ever is geared towards being a makeup artist's brand so they carry a very wide range of colours. They are also one of the brands that carry matte eyeshadows. I'm not really one for matte eyeshadow, but there are people who have tried them and who like them. So, if you are looking for matte colours, you might try Make Up For Ever.
The size of an eyeshadow is large, similar to the size of a Stila pan so you really get lots of product. There are a few different textures – matte, iridescent, pearly iridescent and diamond. The intensity of shimmer goes up from none in matte to full shimmer in diamond eyeshadows. I've yet to get myself a diamond eyeshadow but I might go for the black some day. My present black shadow is crumbling to bits!
If there is one thing I do not like about MUFE eyeshadows are how they are labeled. I don't like products that identify their colours with numbers. I find it harder to remember a number than a name so if I have one gripe, it is this.
Make Up For Ever can be found at their counters in Suria KLCC (centre escalators near British India) and U Parkson in 1 Utama. For now, these are the only 2 places I know of. I cannot quite recall the prices of the eyeshadows off hand as I did not buy these. Maybe when Jojoba comes round she can let us know the price 🙂
Pros: Nice texture, long lasting, pigmented

Cons: Labeled with numbers not names
[rating:4/5]