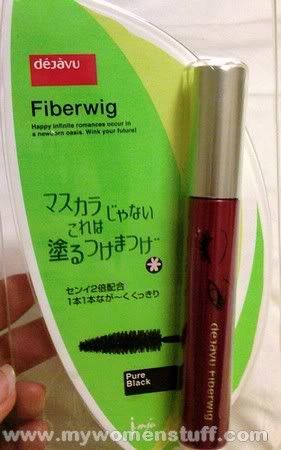 I'm sure many would have seen or read about or heard about the
Imju Dejavu Fiberwig
mascara. It is touted as
Japan's best selling mascara
and I first saw it in Malaysia in the last year or two. It was about that time that I was learning to use mascara and was looking for a good one.
A friend from Hong Kong told me to try the Dejavu Fiberwig mascara. According to her, its nothing short of awesome. However, being a little bit of a skinflint, I balked at paying RM49.90 at Sasa for it. On my last trip to Bangkok, I happened to see it at a Watsons for only about RM25! (have I mentioned how I love to shop in Bangkok?!) So I picked up a tube of Fiberwig in Pure Black to see what the hype was about.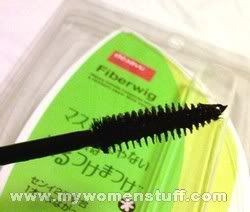 The first thing that struck me when I pulled out the brush was "Oh my! Its a big brush!" The trouble is that I don't have very long or curled lashes. I have typical stick straight Asian lashes that point down so using a big brush can be messy. I had a similar complaint about my favourite mascara so far –
Anna Sui DX Full
mascara. The brush on the Fiberwig is even bigger!
I usually apply my mascara in the following manner: curl lashes -> apply mascara
I found that when I used this method with the Fiberwig, it weighed my lashes down and all the curl went out of my lashes! I was very surprised. So, reading the bit of paper that came with the packaging, I saw that the recommendation was to apply the mascara, let it dry then curl.
Now, many of us might have read warnings NOT to curl your lashes after applying mascara because it can cause breakage. So, I was very surprised and not a little sceptical to read this instruction. But try it I did. And to my surprise, it works. I apply the mascara after doing my eye makeup, do the rest of my face while the mascara dries and then curl my lashes once I'm done. By then the mascara has usually dried and it doesn't stick to the curler at all. Voila! Perfectly curled lashes that stay curled the whole day!
The other thing I noticed about the Dejavu Fiberwig mascara after repeated uses is that it lengthens lashes beautifully, but doesn't provide much volume. I guess we can't have it all! I've tried all the usual tricks – wiggling the brush at the base of the lashes, applying layers and still no volume. For someone with somewhat sparse lashes its a bit of a bummer.
It is not waterproof but water resistant. It doesn't run on me and stays nicely on the whole day. I also find it easily removed with my usual oil cleanser at the end of the day. Also, if I've made a mistake or caused the brush to get my eyelid (as I do due to the brush size), it is easily removed with a cotton bud so not much complaints there.
I find the texture very liquid and the tube is quite large. If not for the 3 month embargo on mascara I'd say that one tube could last you up to 6 months with regular daily application. Unlike Maybelline mascaras I don't find my eyes watering with the fumes when I bring the Fiberwig mascara brush near them. That alone gets it a thumbs up from me for this drugstore brand.
Pros: Lengthens, water resistant, no fumes, a lot of product, holds a curl once you curl your lashes after applying

Cons: Curl only after applying, weighs lashes down, quite pricey, not much volume
[rating:4/5]