When I first read PJ's review of Coffret D'or Elegance palette on A Touch of Blusher, I knew that this was a promising purple palette I might be able to use. I previously reviewed the blue-green palette – Fresh.
When I finally tested the Coffret D'or Elegance palette in person, I knew I was sold.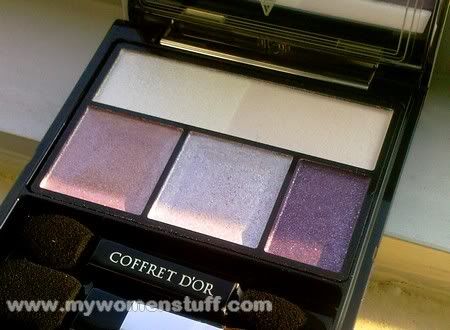 The Coffret D'or Elegance eyeshadow palette is less of a purple palette and more of a lilac palette.
The first 2 colours are highly shimmery like the Fresh palette. It goes on light and shimmery and the colour is almost exactly as what you see in the picture. The darkest lining shade is also shimmery but feels rather gritty compared to the first two. The top highlighting shades apply white.
I have a problem with purple eyeshadow colours. I usually cannot pull them off due mainly to the red base of the colour. Then, I realised that if the purple was blue based, or lilac, I could actually wear it. This is precisely the Elegance palette. It tends towards being rather cool in terms of colour tone.
I wear it with the darkest shade closest to the lash line, the first shade on the left as the base colour up to the eye crease; and the middle colour to highlight the inner corner of the eye and to add shimmer. The highlighting shade, I use on the brow.
To my surprise, although I first tested it out in a hurry, I actually got compliments on it! 🙂 It pleases a girl no end to get compliments. So, this gets 2 thumbs up right away in my book!
Coffret D'or eyeshadow palettes retail at all Kanebo counters for RM120.
Coffret D'or Elegance eyeshadow palettes gets a [rating:4/5]