I'm late for Earth Day which was yesterday 22 April 2008 but hey, better late than never I say! My highlight is EcoTools makeup brushes. I'm not the most ecologically friendly person but heck! I'm sold on these makeup brushes!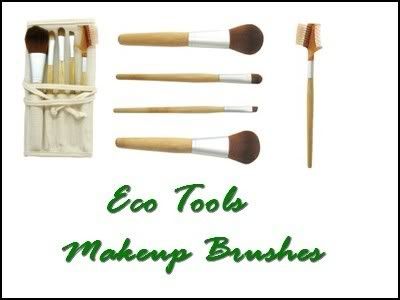 I first saw them on a Google ad (whoever said these ads were of no use?) and then, read some reviews about them. EcoTools (or ecoTOOLS as per their logo) makeup brushes are made from natural and recycled materials and the bristles are cruelty free.
Essentially, the handle is made from bamboo, the ferrule (that's the metal part) is made from recycled aluminium and the bristles are made from synthetic taklon fibre and are therefore 100% cruelty free.
The reviews I've been reading have sung nothing but praises for these Eco Tool makeup brushes. Users say that they do the work well, and are even comparable to high end department store brand brushes and the brush heads are very soft.
Further, they are cheap. Retail prices range from US$19.49 for the set to about US$10 for the powder brush and US$5 for the eyeshadow brush. Apparently, there are even discounts off these already cheap prices sometimes.
Now for the clincher. They are only sold at USA drugstores!! Waahhh!! I want them! 🙁 Does anyone know where I can get these online (that ship outside of the USA)?
Update: Ecotools brushes are now available in Malaysia.